No matter how much time I spend on different online fitness communities and forums, I always see the same type of question asked again and again:
Which is the best calisthenics program?
Is a paid or free calisthenics program better for me?
What's the difference between workout app A vs workout app B?
With there being so many options available out there, there's no wonder people are confused. Even more so when almost every program has promises of 'insane strength' and 'unbelievable body transformations' plastered all over it.
If you've ever asked one of the questions above, then look no further, because in this post I'm going to provide you with my unbiased review of the most popular calisthenics programs and apps to help you decide which one is best for you.
At a glance: The best calisthenics programs and apps
Which Calisthenics Apps And Programs Have Been Included In This Review?
In this post, I have used and reviewed the following programs and apps:
Bar Brothers "The System"
Calisthenic Movement
Reddit Recommended Routine (RR)
Caliverse app
Antranik's Rings Bodyweight Training Routine
Thenx app
Saturno Movement
For each of the above, I have included what format it is, what the cost is, what equipment you will need, and where to get access.
---
The Bar

Brothers Workout: 'The System' 12 Week Calisthenics Program

Format: Online video content and PDF
Cost: £48.68 for the 12-week program (one-time purchase for lifetime access)
Required equipment: The program demonstrates all exercises on a Power Tower, although a standard pull-up bar and dip bars will suffice
Get it here: The System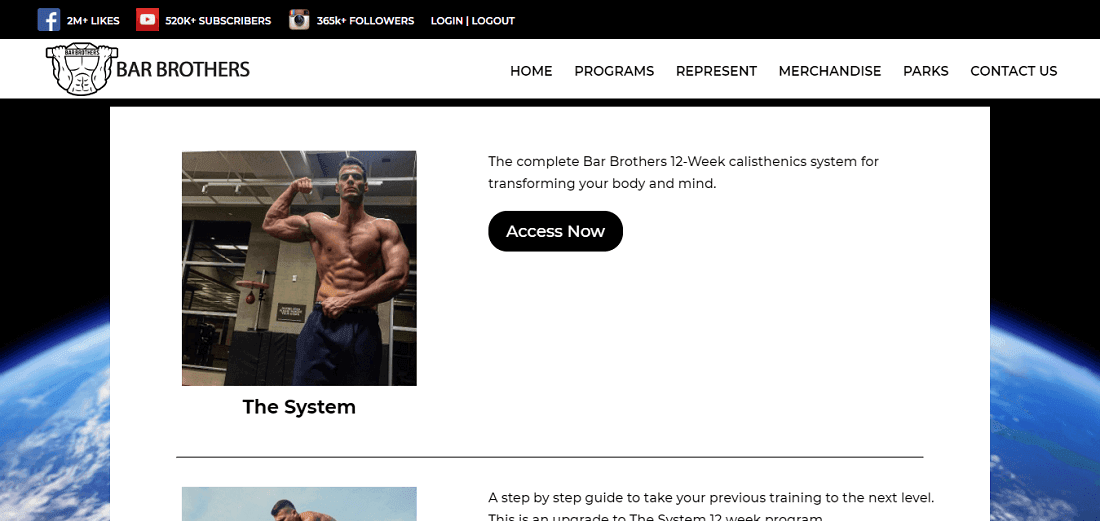 Before I dive into this one, I'm going to first let you in on a little secret that a lot of other marketers in the fitness industry are going to hate me for sharing.
I'm sure you've seen the program promoted on many websites (this one included!), but I think the popularity of this program isn't necessarily down to the quality of the program itself.
The reason I think this program is so popular is that affiliates and influencers promoting the program earn a 75% share of each sale. That means when someone spends £48.68 on the program, £36.51 of that gets paid to the promoter.
(And yes, we also benefit if you purchase the program through our links).
I think it's wrong of me to say that people's reviews of the program are false or misleading, but I do believe financial gains do play a part in which programs people may wish to promote to their audience, which is why I think it's vital for me to share this with you.
So what exactly is the 'The System' 12-week program?
'The System' is one of several paid programs created by Bar Brothers duo Dusan Djolevic and Lazar Novovic​.
Once you purchase the program, you will be given access to an area which contains 17 different sections, including an introduction, nutritional advice, a detailed explanation of the program, and full workouts for the 12 different weeks, amongst a few other bits.
There is a master 13-page workout PDF detailing the exercises, reps, sets and rest time for each day of the 12 weeks, which you can print out and refer back to during your workouts.
Each week has around 6 or 7 individual videos which last between 2 and 3 minutes, demonstrating the exercises listed in the PDF workout plan.
Day 1 of the program starts with a test. The rest of the program is then set out with a workout each day, with a rest day scheduled every 4 or 5 days (when rest days are 5 days apart, one of the 5 workouts will be a cardio workout).
Would I recommend the Bar Brothers 12 Week System?
I think the program is well suited to those who classify themselves as novices but aren't comfortable putting together their own workouts yet.
Unlike some other workout resources, 'The System' is very structured throughout the 12-week duration. It tells you exactly what to do when to do it, and how to do it. Granted, I think there are much better resources for exercise and workout information, but this is well suited for someone who is completely lost and unsure of where to start.
One thing I can't help but forewarn you about in this review is that although the subject matter of the videos is great, the delivery can be laughably amateurish at times.
Dusan and Lazar have filmed the whole series in what I imagine is their living room, and they appear to be reading from a screen which is only slightly out of sight for most of the time. There are numerous stutters and corrections in the delivery, and while one of them is talking, the other is often stood around fidgeting.
I can't help but think that it wouldn't be too much effort for the team to go back and recreate more professional versions of the original videos. Surely the success of the program has earned them enough money to justify updating the series?!
How does the Bar Brothers System shape up for more advanced users?
One of their other programs "The System – Freestyle Moves" was a program that I was particularly interested in myself as an advanced looking program, so I dived into this to see if there's better content for the advanced users out there.
Unfortunately, the program only contains 5 (worthwhile) videos covering the Muscle-Up, Front Lever, Back Lever, Handstand Pushup and Pistol Squat.
Not only would I not classify any of the above as 'Freestyle moves', but I also think the 5 videos barely covered the moves in the required detail, which I think I can justify saying since each video is only 4 to 8 minutes long.
For those looking to learn the moves mentioned above, there are definitely better choices covered elsewhere in this review.
I would also add that when comparing the contents of this program to the core 12-week program I previously mentioned, the amount of content is seriously underwhelming, considering it has a similar price tag at £38.32.
Check out 'The System' at barbrothers.com
---
Calisthenic Movement
Format: Online platform
Cost: Complete Calisthenics – Level 1-5 Bundle is the recommended program. You can purchase the bundle at a one-time price of $238.80, or buy individual programs for $70.80 each (all are one-time purchase for lifetime access and include tax)
Required equipment: Various equipment (see our recommended list here)
Get it here: www.calimove.com
Calisthenic Movement (Cali Move) is led by instructors Sven and "El Eggs" who have both been training calisthenics since 2012, and between them, have accumulated over 25 years of experience as fitness trainers.
In all honesty, I was completely unaware of Calisthenic Movement when planning this review. I only stumbled upon it by chance after finding a comment from a Reddit user stating how much they loved it.
Out of curiosity, I decided I would also give it a try and add it to this review, and I'm delighted I did. After using the platform, I'd now rank Calisthenic Movement as the best paid program on this list!
Editor note
: Somebody has pointed out that I wasn't completely unaware of Calisthenic Movement, as I have used one of Sven's videos for #6 in my
list of 20 Pull-Up Variations
.
A quick quote from a fellow Calisthenic Movement user
I mentioned that another user recommended it, so I asked them in a direct message if they could give me a summary to include in this review. Here is what they sent me:
Here are my thoughts:

Easy to follow programming
Videos are very straightforward and educational
Progressions make sense
Nutritional information is great, albeit limited
Perhaps more guidelines on when to progress to the next level and/or section of the program, e.g. remain on phase 2 of level 1 until a certain progression is achieved
100% worth the investment if you need a helping hand. An excellent choice if you're someone looking to switch things up or just get started with calisthenics

Overall, 9/10.
The Complete Calisthenics Bundle
El Eggs (EE) gave me access to the Complete Calisthenics Level 1-5 Bundle, which is their most popular and comprehensive course.
I'm sure I'm stating the obvious here, but the bundle contains 5 individual programs ranging from 'Beginner' to 'Master', with each program including a total of 19 weeks worth of content. Assuming you progressed at the expected pace, that should mean you get almost two years of content with the 5 level bundle.
You can find the recommended requirements for each of the 5 levels below, to get an idea of what level each one is aimed at.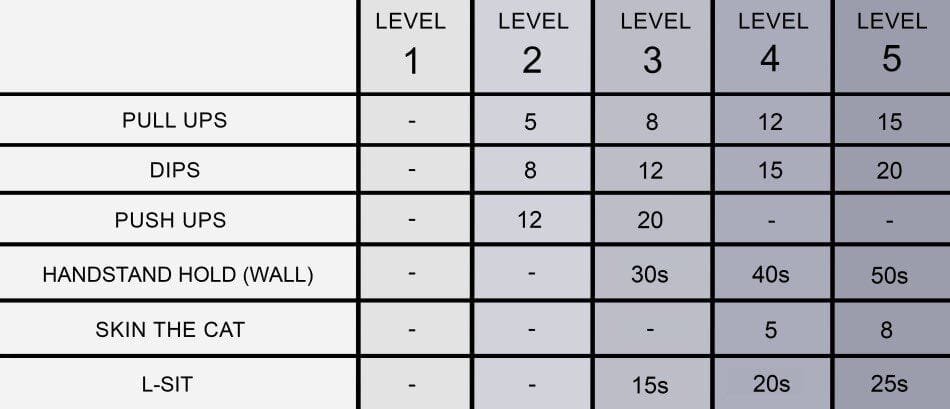 The calisthenics programs are delivered via the Teachable.com platform, which provides the user with a clear and easy to navigate interface. Anybody who has used Teachable before will instantly recognise the layout and terminology used, with the course being referred to as the 'curriculum' and all of the content within the course separated into individual 'lectures'.
Each program is broken down into 4 phases (cycles feels like a better term), with each phase starting with a test week. The first phase of every course is 4 weeks long, including the test week, but all the other phases are 5 weeks long, including the test week.
The purpose of having phases is that each of the weekly workouts is repeated for the duration of that phase. For example, during Phase 1 of Level 1, the Thursday workout consists of Incline Push-Ups, Easy Bridge Raises, Squats and Planks, and you would have to do these same exercises for 3 weeks in a row.
I'm sure some of you may be thinking "that doesn't sound like 3 weeks of content, that just sounds like a week of content duplicated 3 times", and you'd be right, but I think there's sound reasoning behind this method.
From my own experience, I love to switch exercises up each workout, but I find I need to work on that exercise regularly for a given period to improve my strength or endurance for a specific exercise. Calisthenic Movement does precisely that with their approach to phases.
Each phase is long enough for your body to improve at the given exercises, but not long enough so that you get bored and lose motivation. The programs also require you to complete up to 4 sets of each exercise at a recommended rep range and to write down the number of reps completed during each set. By repeating the workouts for 3 to 4 weeks, you can track your progress and see your improvement for the given exercise.
Note that although you repeat the same exercises each week throughout each phase, the number of sets increase and the total rest time changes to give you a progressive path over the full phase.
Understanding The Test Weeks
Each test week has you perform each of the exercises which are covered over the entire phase. The goal here is to benchmark your skill level compared to the given rep ranges and to make a note if any alternative progressions are needed.
For example, when working through Phase 17 of the Level 5 Program, some of the exercise include 3-8 reps of Pistol Squats on each leg, 30-45 sec Planche Lean hold, and Ring Turn Out Support for max time. During the test week, I found I could perform 6 Pistol Squats per leg, hold the Planche Lean for the full 45 seconds, and managed 60 seconds on Ring Turn Out Support.
Based on the above, I know that 60 seconds is the time I should aim for during Ring Turn Out Support for the rest of the Phase. Although I could perform the Pistol Squats within the given rep range, I fell short of the minimum 3 reps on the 4th set, so I could make a note to grab on to something as support during my final set.
Why Do I Rate Calisthenic Movement So Highly?
Put simply, I found Calisthenic Movement hard to critique when working through their content.
Because the content is delivered over Teachable, the user experience is straightforward and the content is easy to access. Within each program, Sven and EE have included general explanations, supporting information, an overview schedule, and detailed video demonstrations of each exercise, which makes everything very easy to understand.
Both Sven and EE are obviously extremely skilled at what they do (I envy how easy they make some of the harder Level 5 exercises like Front Lever and Planche look!), and their video content gives a great explanation of how you should and shouldn't do each exercise.
What I also like about their video content is that they have created longer demonstration videos for each exercise which can be anywhere between 1 and 7 minutes long, but they don't re-use these videos during each workout lecture. Instead they show a 5 second clip alongside the key information you need to know (a gif basically).
See the two screenshots below for an example of this:


I also think that Calisthenic Movement is one of the few that offer a structured program that covers many areas of calisthenics, and has enough content to please both beginners, and more advanced people like myself.
When working through the Level 5 program, I found myself in a position where I was unable to perform the required reps of the given exercise, and had to work hard throughout the given Phases to progress through to the final Phase 19. This is something I hadn't experienced with some of the other calisthenics programs, and shows that the content covers a vast range in skill level.
Check out the Complete Calisthenics – Level 1-5 Bundle at calimove.com
---
Reddit Recommended Routine (RR)
Format: Online Wiki page
Cost: Free
Required equipment: Various equipment (see our recommended list here)
Get it here: www.reddit.com/r/bodyweightfitness/wiki/kb/recommended_routine
The RR is a reasonably basic routine that beginners can follow. While it isn't the most complex or complete program, it's free, easy to follow, and there's plenty of supporting content to help beginners understand some of the fundamental concepts.
The routine is designed as a full-body workout that should be completed 3x per week. The workouts are strength-based, although there's also a skill orientated session (handstands, l-sits, etc.) that can be completed on rest days if you fancy an active rest day instead.
The workout is around 45-60 mins long, which is used to complete 3 sets of 9 different exercises. There's also an additional 5-10 mins for dynamic stretches prior to the strength workout.
What makes the program suitable for complete beginners is that each exercise is designed as a progression. For example, the first exercise on the list is pull-ups (3 sets of 5-8 reps), but for those who can't perform pull-ups yet it is recommended to try instead Scapular Pulls or use a resistance band to support your body weight.
Sidenote: The RR has also been updated with harder versions of each exercise (such as Type-Writer Pull-Ups), for those who can get through the recommended sets with ease.
Who is the Recommended Routine best suited for?
Because it's free and easy to access, I'd honestly advise everyone to check out the RR (all you have to do is follow the link!), but it's also clear that the RR isn't for everybody.
I feel overqualified for it personally, and I also find that I quickly get bored following a similar workout all the time.
Don't get me wrong; I don't mean that as a criticism of the program. I think the RR is fantastic for giving beginners a starting point, but your goal should be to move on to something new, as that means both your strength is improving, and also your appetite for finding more variety within the calisthenics world is changing too!
When designing my own workouts, one thing the RR taught me is the importance of good structure and ensuring I also find time to focus on skill work.
My own goal at the moment is working towards the one-arm handstand, and although I remain focused on strength training, I love mixing handstands into my workouts when I'm feeling playful, uninspired, or even a bit too sore from a previous strength workout. I think setting aside a little bit of time on top of my regular workouts each week has been vital to getting me to the point where I am now with my handstand progression.
Check out the Recommended Routine Wiki at reddit.com
---
Caliverse app
Format: iOS and Android App
Cost: Free
Required equipment: Various equipment (see our recommended list here)
Get it here: www.caliverse.app
Caliverse is a new app on the scene which was launched July 2019, and although it's only in its infancy, the app has BIG potential.
The app has been developed by Daniels, a software developer and calisthenics enthusiast from Latvia. In Daniels' own words:
"I was using other applications to schedule my week and track my progress, but I found that each of them has some problems – either it lacks features, has annoying ads or is overpriced. And since I'm a software developer, I thought – why not make an app myself?".
And there we have it, Caliverse was born.
Daniels collaborated with United Calisthenics Group (a UK-based calisthenics group) to create workouts, plans and exercises which all include demonstration video content.
Daniels keeps users up-to-date with new features and fixes in a weekly newsletter, and also shares stats about the usage and growth of the app.
Plans, workouts and using the Caliverse app
The app is simple to use and allows you to easily navigate between the homepage, available plans and the workout library.
The home screen displays a timeline of your week, with specific workouts assigned to each day depending on the plan you are currently following.
At the time of reviewing the app, there are 7 available workout plans to choose from, and each has different variations within it. For example, the Reddit Recommended Routine (RR) is an available workout plan, and you can choose to follow the Easy, Medium or Hard version of that plan for a total of 18 weeks. Other programs like the "Back to Gym Full Body" plan only have a single level, as they are aimed at a specific audience; in this case, those who can do at least 5 pull-ups in a single set, and are looking for a challenging plan that targets the full body.
When selecting a workout, you can see a detailed overview of all exercises that you will complete, along with the number of reps and sets. You can also click each exercise to get a video demonstration and written explanation of how to do the exercise correctly.
In my opinion, this is the best part of the app. Especially as the athletes are very skilled and able to demonstrate exercises with correct form.
When you begin a workout, the app starts a timer and allows you to progress through each set within the workout, along with giving you a rest screen in between each set.
There are other features available within the workout, such as editing the number of reps you completed during each set, and adding additional kg if you completed the exercise using a weighted vest.
All these features can make the interface feel a little bit too busy in my opinion. Still, that opinion is coming from someone who isn't concerned about logging their workouts or following a timer religiously.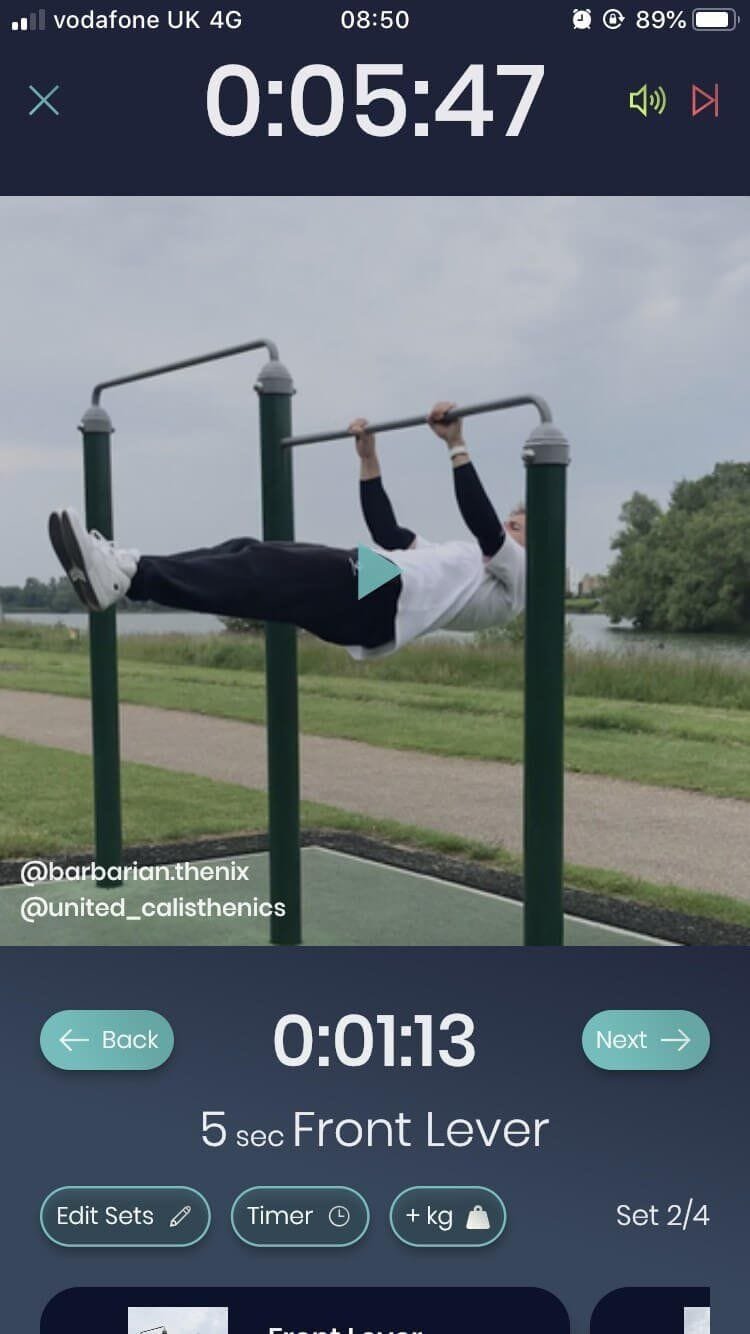 For me, the value in these apps is being able to give you a range of plans and workouts to use, but more importantly, doing so in a way that is easy to understand and follow while maintaining correct form. After all, most people using these apps will be doing so alone, and will most likely not have anybody present to demonstrate new exercises or correct bad form.
Lastly, I'd add that I quite often stumbled upon bugs or usability issues, but this is no surprise considering the app is only new.
The first time I followed a workout in the app, I was outdoors in my local calisthenics park, and I found that videos took a while to load. The app also drained my phone battery. Both of these issues seem to have been improved upon in updates since that day, so I'm glad to see that a lot of hard work is going into the app to improve it continuously.
Which audience does Caliverse cater for?
I decided to browse the workout library and pick a few workouts that I thought would be suitable for a range of users, from those completely new, to those who have been working out for years.
Within the app, there are four difficulty categories; Easy, Medium, Hard and Insane.
Although there are only two workouts listed as Insane, I found an incredibly difficult workout listed under Hard called 'Static Hold By Barbarian'. In this workout, you have to complete 4x 30-second front lever holds, 4x 30-second back lever holds, 4x 30-second handstands, and 4x 30-second straddle planche holds.

Pretty insane, don't you think!? At least we can all agree the app caters for advanced users!
As for beginners, I found 16 workouts tagged as 'Easy', and most of those feel well suited to a beginner. 'Begin With Upper Body', for example, is a 45-minute workout that includes the following:
3x 6 reps of Push-ups
3x 5 reps of Negative Pull-ups
3x 8 reps of Australian Pull-ups
3x 5 reps of Negative Chin-ups
3x 8 reps of Australian Chin-ups
3x 10 reps of Bench Dips
3x 10 reps of Shrugs (hanging)
Overall, I think the app caters well for users of all abilities. I think it's also pretty smart of Daniels to include three variations of the Reddit Recommended Routine on the app since that workout is already regarded so highly by many, you can't argue there are no good workouts on the app!!
What about the future of the Caliverse app?
Daniel's has personally informed me that he has lofty goals for the app (such as sharing workouts, facilitating meet-ups for local communities, and adding gamification features), but he also wants to keep the app free for all.
So how can he achieve this? Well, judging by the other apps I've reviewed, I'm not sure he can.
It will become harder and harder to develop the app further and continue to add quality video content on top of a full-time job. Inevitably I think the app will need to limit its free content in favour of a PRO subscription model.
But until that happens, I highly recommend everyone downloads the app and give it a try. Make the most of being an early adopter and use it while it's still free. What have you got to lose?
Note: You can also choose to support Caliverse via their Patreon page.
Download the Caliverse app from caliverse.app
---
Antranik's Rings Bodyweight Training Routine
Format: Online program and resources
Cost: $59.95 (one-time purchase for lifetime access)
Required equipment: Gymnastic rings
Get it here: antranik.org/rings-routine/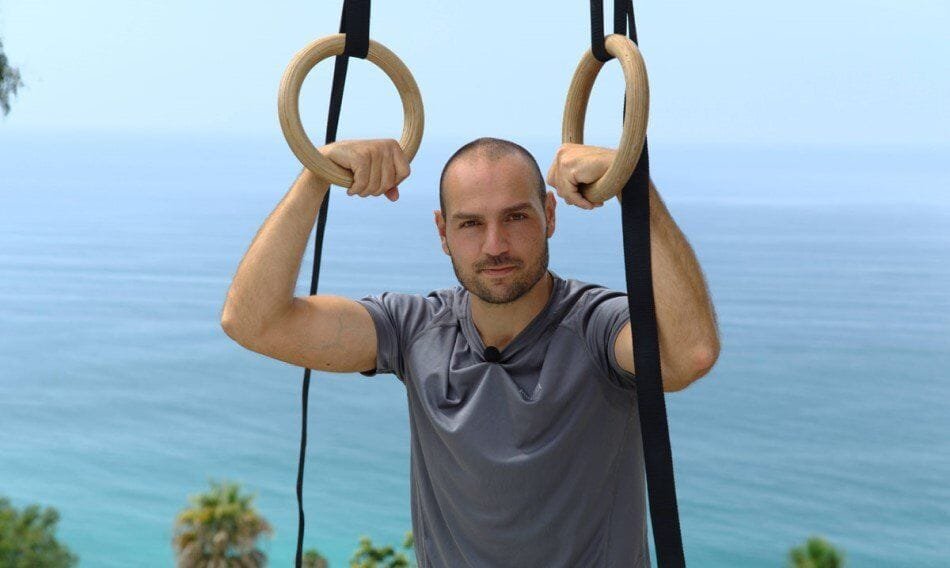 Antranik is a strength & flexibility expert who has been sharing his knowledge on Antranik.org since 2011. However, many people will likely know him better for his contributions to the Reddit r/bodyweightfitness sub, including his Video Explanation of the Recommended Routine (RR).
I've witnessed Antranik deliver quality advice to many posters on Reddit (I've been on the receiving end of it myself!), and it's evident that not only does Antranik know his stuff, but he's generally an all-round legend who spends a lot of time helping others.
Antranik offers numerous programs on his website, but the most popular one that I have reviewed here is his Rings Bodyweight Training Routine.
This routine follows a relatively simple structure. The program requires you to train 3x per week, with each session including a warm-up, some skill work, strength work specific to whichever of the three days you are currently working on, and then a cool down to finish.
I found the skill work to be challenging but fun, and each of the strength training sessions has many different progression phases from easy to super hard, which means that you could follow this program for a long time before you find it no longer relevant to you.
So, why Antranik's programs?
When testing out Antranik's program, it's clear his content is very different from others. You won't find a sales funnel full of empty promises as a way of selling the program to you, and Antranik is very honest when it comes to outlining who will and who won't benefit from each of his programs.
From working through his program, I can also see that where other apps and programs are all about quantity, Antranik is all about quality.
He's spent a lot of time absorbing knowledge from respected coaches in the bodyweight community ('Overcoming Gravity' author Steven Low and Ryan Hurst of Gold Medal Bodies, for example) and this is evident in the content. Where others have created workouts by stringing similar exercises together, Antranik has spent time crafting a program that is optimised to get the best results.
You can also tell from the amount of supporting content that Antranik prides himself on teaching the user how to perform the exercises and what they need to understand to get the best out of the program.
Although I have worked with rings long enough to understand all the exercises and form tips, I was impressed with how clear the instructions and information was throughout the program.
Accessing the program
To get the program, you'll have to sign up through Antranik.org before you can view the members-only area for the rings routine.
One downside of the program being online is that I had to be near my laptop while working out to follow the program. The content is also pretty text-heavy, so it's something that I think wouldn't transfer well to an app.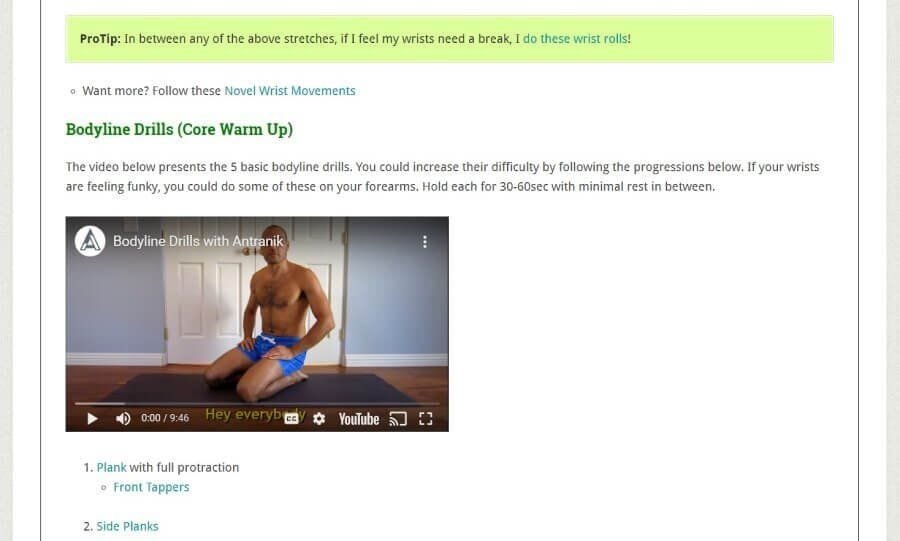 There's a Bodyweight Training Spreadsheet Log that you can print out alongside the program, and each page on the site has a printer-friendly version which you can use to print paper copies, but I didn't find these very useful as there are many links to YouTube videos within the content that it wouldn't have translated well when printing.
Again, this further highlights to me that a large part of the program is reading and understanding the theory, which I think is excellent, but others may not care too much about this.
One thing I should add about the YouTube videos is that I love how a more thorough range of videos have been used in the program. Antranik has done a great job of creating longer 'follow along' videos to help explain and demonstrate parts of the program, and he regularly references videos from other athletes and coaches to help better explain specific techniques.
Who do I think wouldn't like Antranik's programs?
If you're looking to download an app and jump into a workout in just a few minutes, then Antranik's program(s) may not be for you, but if you're interested in understanding how to get the best out of your workout and absorb the details, then I think you'll love Antranik's program.
The only small criticism I would give is that the website could do with some formatting improvements to help make the program easier to read and digest.
Many of the images and videos used are vastly different in size and quality, such as this image here which is only 150px by 150px, and I think more could also be done to help break up the more extensive text content to make it easier to digest.
Check out Antranik's Ring Routine at antranik.org
---
Thenx
Format: iOS and Android App
Cost: Free to download app. Premium app content available to paid users at $9.99 per month
Required equipment: Various equipment (see our recommended list here)
Get it here: Apple App Store / Google Play / Thenx membership subscription
Thenx is one of my favourite workout apps that I have personally used since 2017. I'd always found the app useful for their 'Daily Workouts' content, but I only used the app for inspiration as the interface had always been clunky and confusing to navigate.
Fortunately, the app went through a significant overhaul at the start of 2019, and since then I would say the Thenx app is a top contender on this list.
Who is part of the Thenx team?
Before I dive into the app itself, it's useful to know a bit about the team behind the app, as it's the quality content that makes the app so worthwhile.
Many of you reading this may have already seen members of the Thenx team, especially if you follow calisthenics athletes on Instagram. The most prolific member of the Thenx team is Chris Heria, though many of the exercises on the app are also demonstrated by Osvaldo Lugones, Stefan Heria, Zay Tiggs and John Oslager. You can spot their Instagram posts from a mile away due to the familiar minimal looking Thenx gym.

One thing I find interesting about the Thenx team is that they all seem to be moving towards their own thing. Chris Heria has Heria Pro and Osvaldo Lugones is launching Olevo.com.
I wonder how the athlete's other ventures affect the Thenx app?
What do you get with Thenx app?
The Thenx app ranks #1 on my list in terms of design and usability. I love the app interface, which has a clean, minimal design and is simple to navigate.

Each workout lists the exercises in order, with each exercise displaying a thumbnail, how many reps to perform, and how long to rest for.
You can also click each exercise to open an expanded view. This view displays a simple looping video of the exercise, the difficulty, what muscles group is targetted, and what equipment is needed, if any.

I've said this before in a previous review of the Thenx app, but by far my favourite feature of the app is the Daily Workouts. I love the Daily workouts section as I'd classify myself as someone who understands the concepts behind the workouts and how to perform most exercises with proper form, but I often lack inspiration for building my own workouts.
(I regularly find myself warming up at the park or on the gym floor, yet I still haven't decided what I want to train that day!).
You don't even have to use the workout for the current day. The list view shows all workouts per month, and since they're listed by goal and muscle group, you can find something suitable in no time.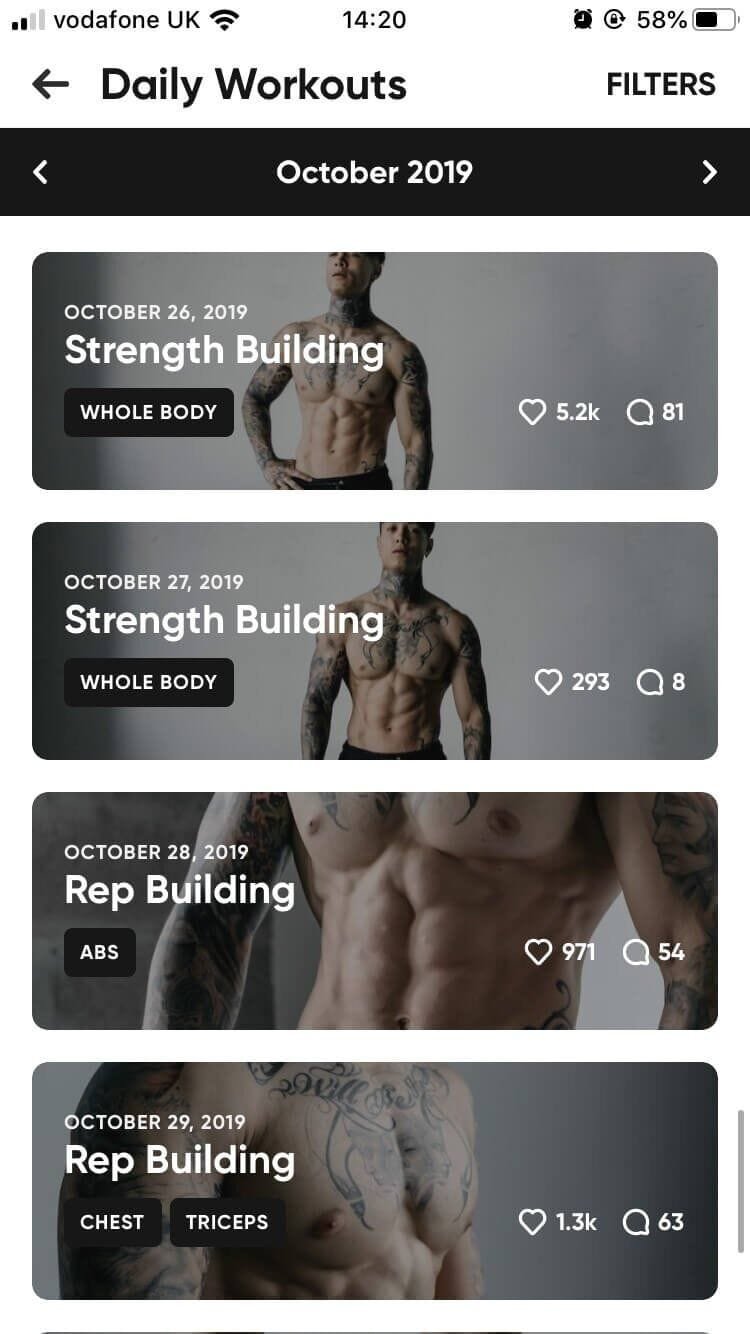 "Rep Building for Shoulders? Hmm, trained shoulders yesterday. Tabata for Legs? No thanks. Strength Building for Back and Biceps? Bingo!".
And the best thing about the Daily Workouts? They're free to anyone!
What benefits are there to paid members of Thenx?
Those who join Thenx ($9.99 per month) get access to 8 Technique Guides and 9 Programs within the app.
The Technique Guides cover the following skills:
Handstand
Pullover
Handstand press
Muscle Up
Straight arm press to handstand
Full Planche
Human Flag
Front Lever
The Programs cover a mix of Beginner, Intermediate and Advanced levels. Each program is split into 8 weeks, with each week consisting of 5 structured workouts and 2 rest days.
Is the Thenx membership worthwhile?
If you're interested in learning the 8 skills listed above, then yes, I think it's worth becoming a paid member. Especially as the price is only $9.99 per month.
But if you're interested in the Programs, then I don't think there's a huge amount of extra value there.
This isn't necessarily because the Programs are lacking, but I think the Thenx team give so much away for free in the app that becoming a paid member doesn't feel like a significant upgrade.
As I mentioned previously, you get free access to heaps of Daily Workouts in the app, and you can also find all the Thenx YouTube workouts curated within the app too (I think there are around 60 YouTube workouts available).
I'm not sure if this is a short term marketing strategy to build up a large user base within the app, but I wouldn't be surprised if the team started reducing the amount of free-to-use features in the app in the future, as they begin to move more of their content into the members-only area.
Quality of Thenx videos
I'm going to add one final point here about Thenx, which is that I think they have the most professional-looking videos out of all the apps and programs I've used in this review.
Everything is shot within Thenx's gym space, which is an extremely clean and minimal looking area. The lighting is great, the commentary is extremely clear and easy to understand, and overall the setup is perfect for shooting videos.
All the technique demonstration videos are shot with a single person performing the exercise, and each video is refreshingly short and no longer than needs to be.
If Thenx can continue to improve their programs and make a better value proposition for their paid membership offering, then they may become one of the top dogs in this space and be extremely hard to compete with.
Thenx App (iOS) / Thenx App (Android) / Thenx membership at thenx.com
---
Saturno Movement Academy
Format: Online program and resources
Cost: Currently reduced at $18 per month, from the standard $40 per month
Required equipment: Various equipment (see our recommended list here). Note that yoga blocks are also used frequently
Get it here: saturnomovement.teachable.com

Gabo Saturno is the creator of the Saturno Movement; a platform which provides access to numerous training resources for flexibility, hand balancing training, and calisthenics.
I'm already a big fan of Gabo's "follow along" YouTube content for stretching sessions (shout out to the Daily Hamstrings Flexibility Routine for Beginners and PANCAKE STRETCH Flexibility Routine videos!), so when it comes to being a calisthenics and yoga teacher, I'm already convinced that Gabo knows his stuff.
The Saturno Movement platform is something I'd not previously used myself, but I became eager to get access to it after reading a scathing rant posted to the Reddit r/bodyweight fitness community.
I've included part of the posted quote below:
"Earlier this year, in February he released this program subscription-based. At the time he had no content. We waited a few months to get 6 weeks worth of content. IT'S BEEN ALMOST A YEAR, and no content has been added at all to the program. He is scamming thousands of people to paying the monthly payment, and no new content is added. They have a Facebook group in which they say they are working on stuff, give fake dates of releases and ultimately end up not posting new content and just apologise…"
So what gives?
I've already mentioned that I highly rate his videos, but I'm only watching free content, which means I have much lower expectations than paying customers.
I had to get access and find out for myself…
Accessing the SM Academy
Once you've purchased the course, you first get access to 3 initial lectures which help introduce you to the SM Academy and how to navigate around the available courses. Note that the SM Academy is delivered via Teachable.com, so for anyone who has used that before you will instantly recognise the terminology they use and the way the courses and lectures are laid out.
The first thing I notice is that before I've even finished the introductory lessons (which didn't take more than 5-10mins), I'm presented with the following message:
"We are still in BETA Version, and this is just a fraction of all the content that will be available in the SM Academy.

You are now part of what is going to be the biggest online movement platform ever created.

We are adding content on a daily basis. Thank you so much for your patience and support."
Considering I read that scathing review before getting access to the SM academy, I'm already a bit apprehensive, so that disclaimer has certainly not helped ease that feeling.
Once you get past the introduction, you get access to 4 different courses:
Calisthenics System
Yoga System
Hand-Balancing System
The Ultimate Hybrid System (this last one is effectively a mixture of the previous 3 courses)
Diving into each course, they all follow the same structure as follows:
Stage 0 – Initiation (includes a single phase)
Stage 1 – Foundation (includes 4 phases)
Stage 2 – Expansion (includes 4 phases)
Stage 3 – Transformation (includes 5 phases)
The idea behind this structure is that you first carry out the week-long Initiation phase to assess your skill and experience level within the given discipline. Your assessment score should then guide you towards picking either the Foundation, Expansion or Transformation stage.
I didn't understand how the Yoga one worked (I can guarantee I'm Foundation level anyway!), so I decided to assess myself on the Callisthenics System and Hand-Balancing System courses.
The assessment has you attempt numerous exercises or skills and gives you criteria for each level. For both of the systems, I found I could pass the Transformation criteria for 2/3rds of the exercises/skills, and fell into the Expansion criteria for the rest.
For example, in the Calisthenics System I can perform 5+ pike push-ups, 5+ muscle-ups, 6x skin the cats (with holds), and hold a 15 second L-sit, but I wasn't able to perform 20 pull-ups or 40 dips in a single unbroken set, and neither could I hold a 2 minute dead hang or 45 second tuck front lever,.
As for the Hand-Balancing System, I can hold a freestanding handstand for a minute, but I have terrible flexibility, so I was expecting similar results here. Judging against the Transformation criteria I have 180-degree shoulder flexibility in a handstand, can perform 2x Crow to Handstand presses, and can perform the 5x Headstand pike presses, but I couldn't perform the pike handstand press pr the 3x pike toe-taps from a handstand.
At this point, I'd made a decision that I was going to progress with the Transformation Stage within both the Calisthenics System and Hand-Balancing System.
I then navigated to the relevant areas, and that's when I found the problem below. Check out the overview pages for each of those below.
Not only is the majority of the content not ready yet, but I'm pretty much at a dead end from here regarding my own progression since neither of the courses has any content available within the Transformation Stage!
In fact, when I dive into phase 1 of the Calisthenics Expansion Stage (which from what I can find is the most comprehensive phase), there are only 6 weeks of content.
With that in mind, I wholeheartedly agree that the writer of that review was right to be pissed off. How can you justify a year-long subscription (or paying a monthly membership for over 10 months), if you've only got a maximum of 6 weeks of relevant content?
Is The Cost of The Saturno Movement Platform Worthwhile?
I know I've been quite negative so far, but there is one thing I want to clear up before mentioning pricing. Of all the online trainers I have tested or used in the past, Gabo Saturno is my favourite trainer for explaining technique in detail.
When you're following an online program, this is especially important, as there's nobody there to correct you. Gabo spends a lot of time breaking down each technique and demonstrating the right and wrong way to do things, along with explaining how each muscle should be engaging.
His explanation and breakdown of scapula protraction/retraction and scapula elevation/depression in the SM Academy Planche video was my personal favourite and one video which has stuck with me as highly valuable.
And that's why I would recommend purchasing an $18 monthly membership to the Saturno Movement Academy, but I would cancel it as soon as you feel there is no more relevant content for you. At the time of writing this, I would under no circumstances recommend a year-long membership, at least until Gabo has managed to increase the amount of content available in the Academy.
I should also add that the way the pricing is structured is both confusing and irritating. The 'Beta Membership' is $15/month, which is "…62% Off the original pricing of $40/month".
Now forgive me, but how was there ever such as thing as 'original pricing' when the program is in Beta? Is that a marketing ploy? Will the pricing increase to $40/month? And if so, when? (rant over!).
Check out the SM Academy at saturnomovement.teachable.com
---
Conclusion
When it comes to following a program or an online personal trainer, I think there are four key things you need:
Coaching to explain how to perform an exercise with correct form
An understanding of your progress, to ensure the program is tailored to your goals and current skill level
Motivation to ensure you train regularly and keep you engaged for the duration of the program
Inspiration and knowledge so that you can reach a level where you are no longer reliant on paid programs, and can design your own workouts tailored to your personal goals
Some of the above factors can be very hard to get right, and I don't think any of the programs or apps I have reviewed are strong in all areas, which is why I believe it is beneficial to try out and use a range of apps and programs to find what works best for you.
Knowing what I do now after reviewing the above, I would make my recommendations as follows:
Best paid calisthenics program – Calisthenic Movement
Best 'specialist' calisthenics program – Antranik's Ring Routine
The top pick of the free programs – Caliverse
Want To Leave Feedback?
I've put a lot of time and effort into this review, and I'd love to ensure it remains relevant and helpful.
If I've missed a killer app or program that you've been using, got any of the facts in the review wrong, or said something that you strongly disagree with, then I'd love to hear about it.
Leave a comment by scrolling further down the page to the comments section, or get in touch with me directly via email.
Credit
Thanks to those who provided me with paid access to their programs and apps specifically for this review; Stefan Heria, Fabian from Saturno Movement, El Eggs and Atranik.
And thanks to my personal trainer IG/Bakers_cali_gram being a significant catalyst in my own calisthenics progress.

Founder of www.calisthenics-101.co.uk. Training calisthenics since 2012.
Currently working on: 30 second one-arm handstand, muscle-up 360, straddle planche.