Whether you're looking for a separate pull up station or another piece of equipment for Calisthenics, eventually you come around to look at the best power towers. This is because it's a single piece of equipment that lets you perform many different bodyweight exercises. It avoids building up too many different pieces of equipment if all you want is a single solution to exercise various muscle groups successfully at home.
While you could try to perform bodyweight exercises with just a yoga mat and the power of gravity, it's much easier to do with a power tower. Whether that's pull-ups, dips, or another safe exercise to do at home, it's more fulfilling and likely to deliver better results too. Why is that? Because depending on the best pull up station selected, the range of exercises is far greater, allowing for a more complete workout.
Overview of the Best Power Towers for Home Use and Calisthenics
The table below provides an overview of the different power towers reviewed, ranked best to the third runner-up. Click on any title to check the current price.
---
What Should You Consider When Buying a Power Tower?
The best pull-up rack or power tower depends on your budget and requirements for different exercises that you wish to put your body through in pursuit of a sculpted final result.
While power towers aren't known for being best for performing explosive exercises, they still make it possible to get a satisfying and varied workout done.
Why Buy a Power Tower?
Once a beginner has learned the basic movements to use correct form to avoid injury, then the use of towers is self-explanatory. The all-in-one aspect of this type of exercise equipment is one of its attractive qualities. That isn't to say that they aren't fairly tall or wide, because they're both, but they allow you to perform multiple exercises in a single workout session. However, as a single purchase, they make for a complete solution when using bodyweight to lose weight or get trimmer at a beginner or intermediate level.
Some of the downsides of power towers include space restrictions when reaching an advanced level and wanting to execute windscreen wipers or archer pull-up movements. In this case, any metal on the frame at either side would restrict movements too much. It's also not possible to pull off muscle-ups, and explosive exercises aren't its strong suit either.
Furthermore, power towers are heavy beasts. Once assembled, they need to stay where there are. They're right for many people but not everyone. Some people may prefer to purchase a separate pull up bar or other fitness equipment instead.
Features of a Power Tower
One of the first things you may notice with a power tower is that there are bars to use for pull-ups but also the equipment is set up to perform dips too. This isn't possible to find with other equipment that successfully combines both exercise movements.
The equipment includes a knee raise station with convenient arm pads to make it more comfortable and a back pad for extra support too. Along with pull up stations, it might incorporate a chin-up station in the design too. Push up bars or arm slings (an extra possible with one of the power towers reviewed) provide other exercise options as well.
Usually, the equipment will also be produced using steel for rigidity and strength. There should be padded feet (often made from rubber) to prevent the power tower from sliding or damaging the floor during use. Grip handles and bars are typically padded with foam or another durable material to make it more comfortable to grab hold of for periods of time too.
Weight Restrictions
Just like with other fitness equipment, they come with weight restrictions.
These are a useful guide to avoid the equipment breaking or toppling over due to excess weight. With some towers, the weight is set at 120 kilos whereas others might reach 135kg. Each tower will be different in this regard.
It's also probably a good idea to air on the side of caution with these guidelines too.
Sizing
The size of the tower is relevant in terms of space requirements. Whilst it is put together at your home, it still needs to fit comfortably inside a room or garage to be able to perform the exercises.
Also, bear in mind that some exercises will see you extend your legs out in front of you or into other positions which will likely go behind the depth measurements of the equipment. Therefore, allow extra space all around the tower to ensure it'll fit comfortably where you plan to position it.
Are Power Towers Easy or Difficult to Put Together?
Not all fitness equipment is easy to put together. The better manufacturers pay more attention to providing easy to follow instructions and/or access to colourful guides on their websites.
Assembly will usually require 30-60 minutes depending on how many parts there are and whether you're adept at assembling the product from a flat pack.
---
The Top 4 Best Power Towers for Home Use and Calisthenics
#1 Sportstech 7in1 Power Tower PT300 (Best Quality)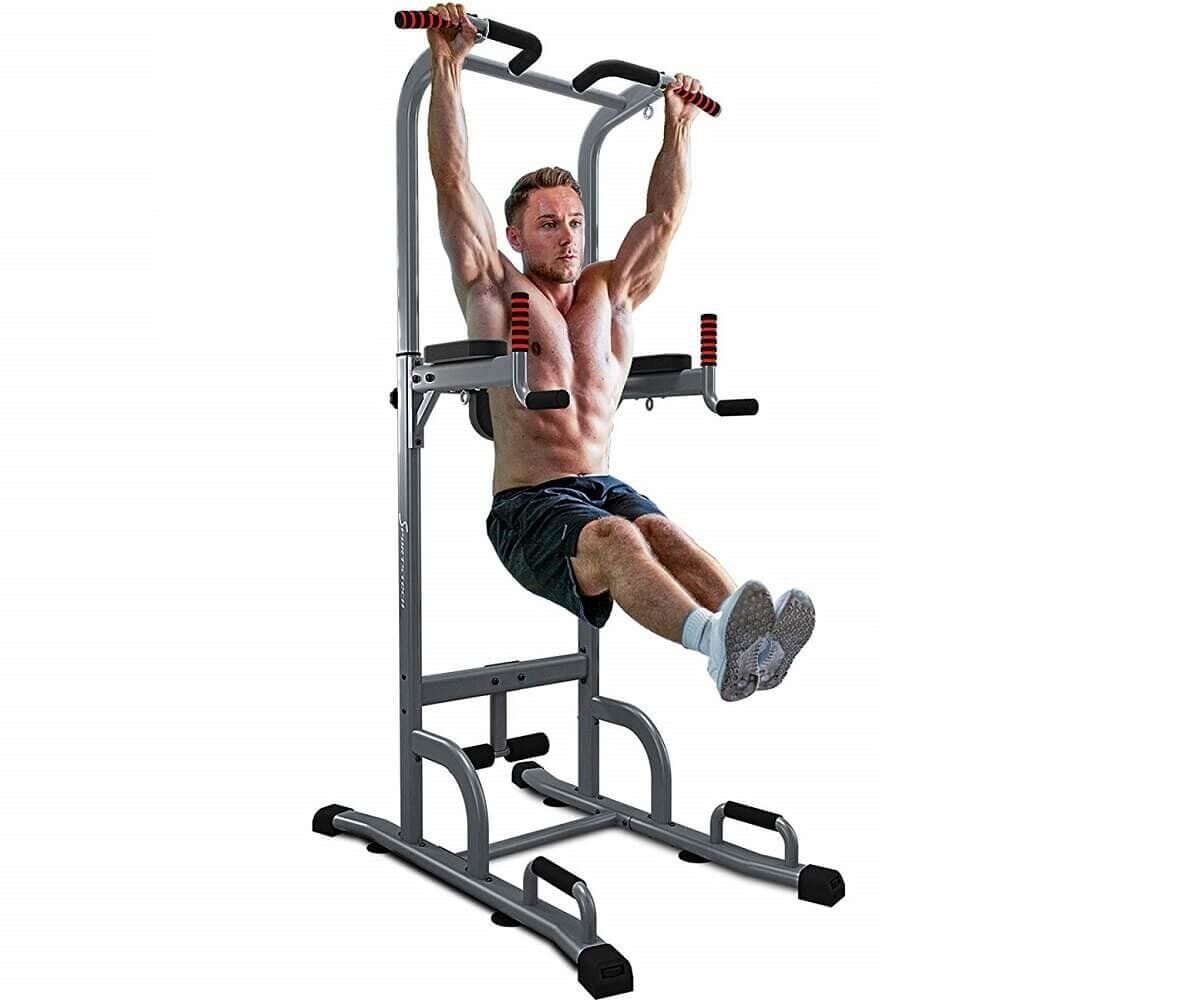 The Sportstech 7in1 Power Tower PT300 wins our Best Quality award due to its robust design, steel construction and thoughtfulness with padding and grips used. There's extra frame support provided along with additional suction cups for the floor too.
This product aims to enable at least 7 different accessible exercises within a single piece of fitness equipment. It also features several eyelets to accommodate the TRX system along with slings, ropes and other useful extras potentially, to mix up a fitness routine (not included).
Its dimensions are: Length 110cm, width 83.5cm and height 153 to 218cm (height is adjustable).
The functionality of this tower lets you use the pull-up bar, work your abs, get the triceps burning, perform sit-ups or push-ups, the occasion dip session and work your back muscles too. This is the clear advantage when purchasing a pull-up rack as opposed to a smaller piece of equipment that limits what you can do with it.
To get more specific, the front-facing pull-up bar provides pleasing hand position flexibility with several possible placements to find the most comfortable one. It also rotates up to 180-degrees in case you wish to perform pull-ups from a different angle or position. There's also a dip station with a thick armrest padding to provide enough support for the elbows and arms. Furthermore, the padded push-up arms below can help get your daily push-up routine knocked out in no time at all. Also, the sit-ups bar is present near the bottom with padding to maintain a stable position and avoid scuffing your feet or trainers too.
The construction material is steel with extra frame supports and wide rubber feet complete with four extra suction cups that eliminates any chance of slippage. The weight limit of the equipment is 120kg. The feet are height adjustable too, which handles slightly uneven floor surfaces adroitly. The foam in the handles and bars provides extra comfort during exercise stress and avoids sores developing for regular exercisers with a fitness goal.
To accommodate exercisers at different height levels, the pull-up bar can be moved to a different height and also a specific sideways position too. Using a sling or ropes is possible too to vary up the workouts even more (not provided).
The product comes with an eBook to illustrate the types of exercise that are possible with the equipment too.
Overall, this Sportstech Power Tower delivers across the board. It's got those little extras that really make the difference like the TRX compatibility, sit up bar, floor supports and flexible height adjustments too.
Check the price of the Sportstech 7in1 Power Tower PT300 on Amazon
---
#2 Gravity Fitness Power Tower (Best Value)

The Gravity Fitness Power Tower is our Best Value award winner. It's a commercial-grade dip station and pull-up rack that while it doesn't provide as many features as the Sportstech model reviewed above, offers excellent value for money.
Its dimensions are: Length 1,310mm; width 1,050mm and height 2,100mm.
This equipment is designed to perform some specific exercises. It can be used to perform pull-ups, chin-ups, knee raises, dips, press-ups, and dips. There's a comfortable armrest on either side to make it easier to perform knee raises too. The front-facing pull-up bar has handles which curve downwards making it a simpler matter to find a grip that you're most comfortable using.
The steel construction is rugged. It's comprised of tubular steel with a 50mm x 50mm measurement. The extended legs have rubberised feet on each end to prevent the equipment from sliding across the floor. The weight limit for use is 135kg, which is at the higher range.
Putting the equipment together doesn't take very long at all. In the event of an issue, the customer service provided by the seller has been shown to be excellent based on past buyers' experiences.
While this power tower can be used outdoors, we would not recommend leaving it out in the elements. However, if it were under a tarp shielding it from the rain, then perhaps it would survive it. However, it would increase the chance of rust due to moisture in the air affecting the metal, so indoor use is preferable.
The equipment isn't designed to have extras added onto it like ropes, etc. There's also no sit-up bar.
The Gravity Fitness Power Tower comes with a five-year warranty covering defective manufacturing.
Overall, the Gravity power tower doesn't disappoint. While it cannot be expected to have all the bells and whistles of the Sportstech PT300, it offers excellent value for people keen to workout at home.
Check the price of the Gravity Fitness Power Tower on Amazon
---
#3 Bodymax CF362 Heavy Duty Power Tower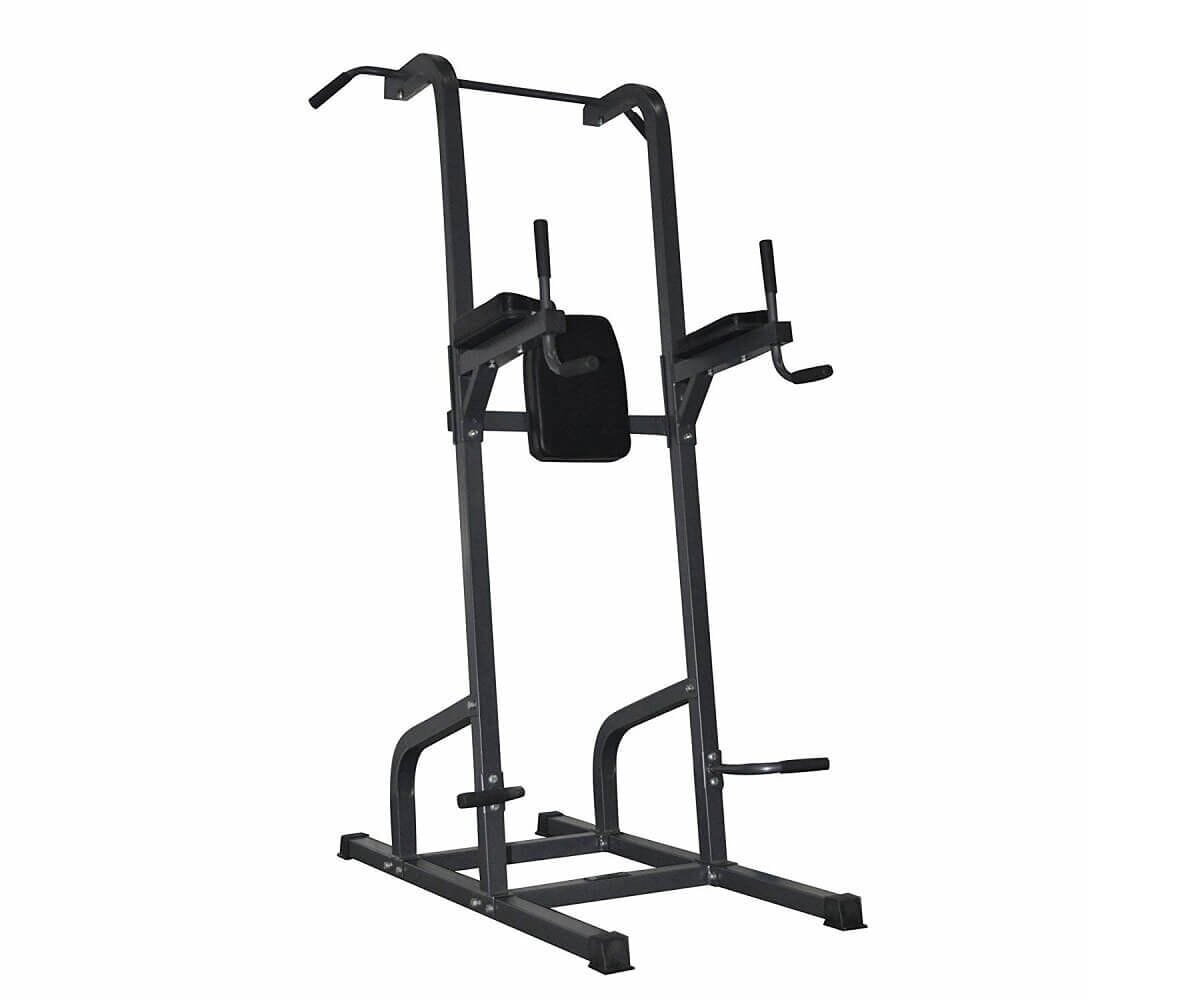 The Bodymax CF362 is an upgrade from their earlier CF360 model.
The main noticeable difference between the two models is the rear-facing pull-up bar as opposed to the other models reviewed in this guide, which face the front. This creates a couple of issues:
The first is that more advanced exercisers will find the position problematic to perform advanced moves like the Archer Pull-ups or Windscreen Wipers due to space restrictions
The second issue is that some people would prefer to position the equipment near a wall – this requires space at the front and the rear to use the equipment fully
Nevertheless, if you can live with this change, then the Bodymax is a solid power tower worth considering.
Its dimensions are: Length 150cm; width 65cm and height 220cm.
The weight for this power tower is 135kg which is one of the better limits in the range of products under review.
One of the things that impress here is the padding and outer material. The back support and arm supports are generously padded with the covering material feeling durable. Indeed, it will probably survive acceptably well outdoors when using a weatherproof cover to prevent rain ruining the metal and padding covering.
Despite being rear-facing, the pull up bars are high at 220cm. Not only can they support some decent pull-up sessions, but other Calisthenics equipment like gymnastic rings can be used to make things really interesting.
The padded push-up bars support a solid arm workout in the morning. This won't cause any stability issues either with good frame supports and rubber feet keeping the equipment in position.
Assembly doesn't take much more than a spanner and following the instructions.
Overall, the Bodymax CF362 is a reliable piece of sturdy equipment that can support many hours of robust workouts for the most determined.
Check the price of Bodymax CF362 Heavy Duty Power Tower on Amazon
---
#4 Hardcastle Bodybuilding Pull Up/Dip Home Gym Power Tower

The Hardcastle Bodybuilding power tower is the "Cheap Charlie" option. It's basic, but you'll certainly be able to get some useful workouts done with it. But don't expect anything fancy.
Its dimensions are: Length 106cm; width 60cm and height 214mm.
The colouring of the Hardcastle model is interesting with the white exterior with black handles, padding and at either end of each leg. So, it'll certainly stand out from other home fitness equipment that you might already own.
The back and arm padding are a bit thinner than with competitor models under review. They'll probably suffice for anyone who doesn't have a bad back already.
The power tower supports either 90kg or 120kg in weight (depending on which information is to be trusted – it varied!) which puts it at the bottom rung of weight limits in the range. However, there are no feet as such on this product, so it can slide about. Buyers are advised to pick up a rubber mat or similar to provide extra stability.
The product is designed to offer pull-ups, chin-ups, dips, knee and leg raises. Therefore, the upper body and core are the focus here. There is no push-up bar or sit up bar either, so you'll still need to use a yoga mat or the bottom of the bed for those.
Also, as to be expected, there's no eyelets or other options to add swings, ropes or any other extras here. That's quite reasonable considering it's the economy model.
The assembly from a flat pack takes about 45 minutes.
Overall, the Hardcastle Bodybuilding power tower provides a serviceable option for people who don't wish to spend up for a model with more features. Given that a mat is needed to prevent it sliding on the floor, some other models under review won't be noticeably much dearer.
Check the price of Hardcastle Power Tower on Amazon

Founder of www.calisthenics-101.co.uk. Training calisthenics since 2012.
Currently working on: 30 second one-arm handstand, muscle-up 360, straddle planche.