Once thought of as something that only Soldiers and Marines would use, a weighted vest is now a popular item amongst Calisthenics and Crossfit enthusiasts who are looking to add additional weight to their own body weight when exercising.
In this buyers guide, I'm going to give you our ranked list of the top-rated weighted vests, share the buying factors I have considered when ranking the vests and discuss the benefits of buying a weighted vest.
Overview of the Best Weighted Vests
The table below provides an overview of the different weighted vests we reviewed, ranked best to worst. Click on any title to check its current price.
---
What Do You Need to Consider When Buying A Weighted Vest?
The factors listed below are what I take into account when reviewing each vest. Some factors may be more important to you than others, depending on your training goals, budget and personal outlook, so consider each carefully when choosing which of the listed product would suit you best:
Weight range
You will find many vests are listed with a range of different weights. This is because they are designed in a way that allows you to add and remove weights as you see fit, meaning you could use the same vest as both a 5kg weight and a 20kg weight.
Other vests are designed so the weight cannot be altered and are listed as a single weight.
Style / Comfort
You will see from the pictures that weighted vests are available in different styles, from the more streamlined 'X' style to the bulky looking 'Bulletproof Armour' style.
Some users may find a specific style uncomfortable, though this can vary depending on the user's body type and the quality of the product.
Others may also find that their choice is heavily influenced by looks, either because the bulky style looks more badass, or because they are looking for a more conspicuous design so as not to stand out when using it.
Durability
It is important to pick a quality vest that will last.
The added weight means the stitching can be put under much more strain than other wearable-type accessories, and if you opt for a cheaper vest then you may regret it if the vest falls apart in the early days of using it.
Value
As always, we consider the value of each recommended product to ensure you get the best for your hard earned cash.
---
The Top 5 Best Weighted Vests
#1 Powerfly Pro Fitness Weighted Vest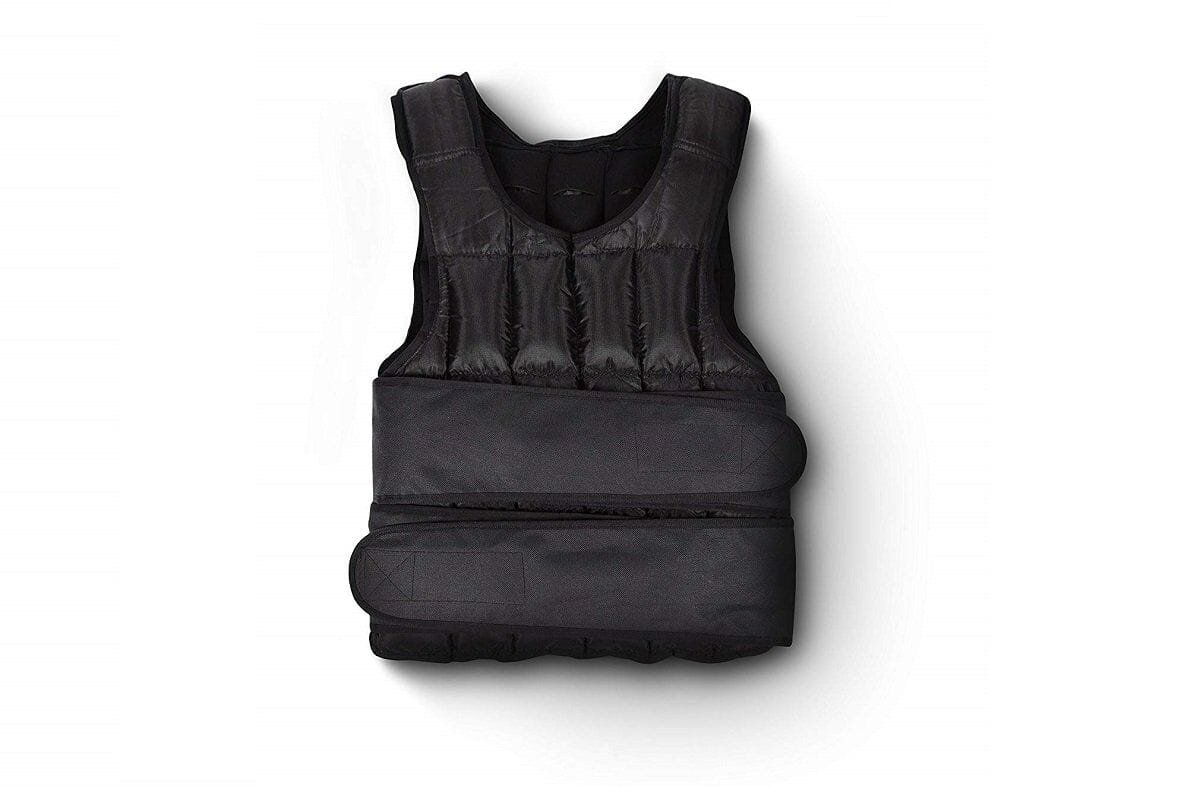 The Powerfly Pro Fitness vest is rated top of our list for a weighted vest that offers a versatile weight range whilst being comfortable to wear and designed to fit all user's different body types.
The vest can be purchased in different upper weight limits of 10kg, 15kg and 20kg.
The weights used in the vest are granulated steel, distributed around the vest in secure bag pockets. This allows you to add and remove weights easily from anywhere between 0.5kg to 20kg with little hassle.
Unlike some other weighted vests, the Powerfly Pro Fitness vest's bag pockets open on the interior of the vest. This is a handy feature which helps ensure the weights are secured within the vest and won't be at risk of falling out if you use the vest in awkward positions, though it does mean you will most likely wish to take the vest off first when adding or removing weights.
The vest has extra padding on the inside for a more comfortable feel, which is an important comfort needed around the shoulder straps when using a weighted vest with a higher weight.
Check the price of the Powerfly Pro Fitness weighted vest on Amazon
---
#2 Adidas 10kg Weighted Vest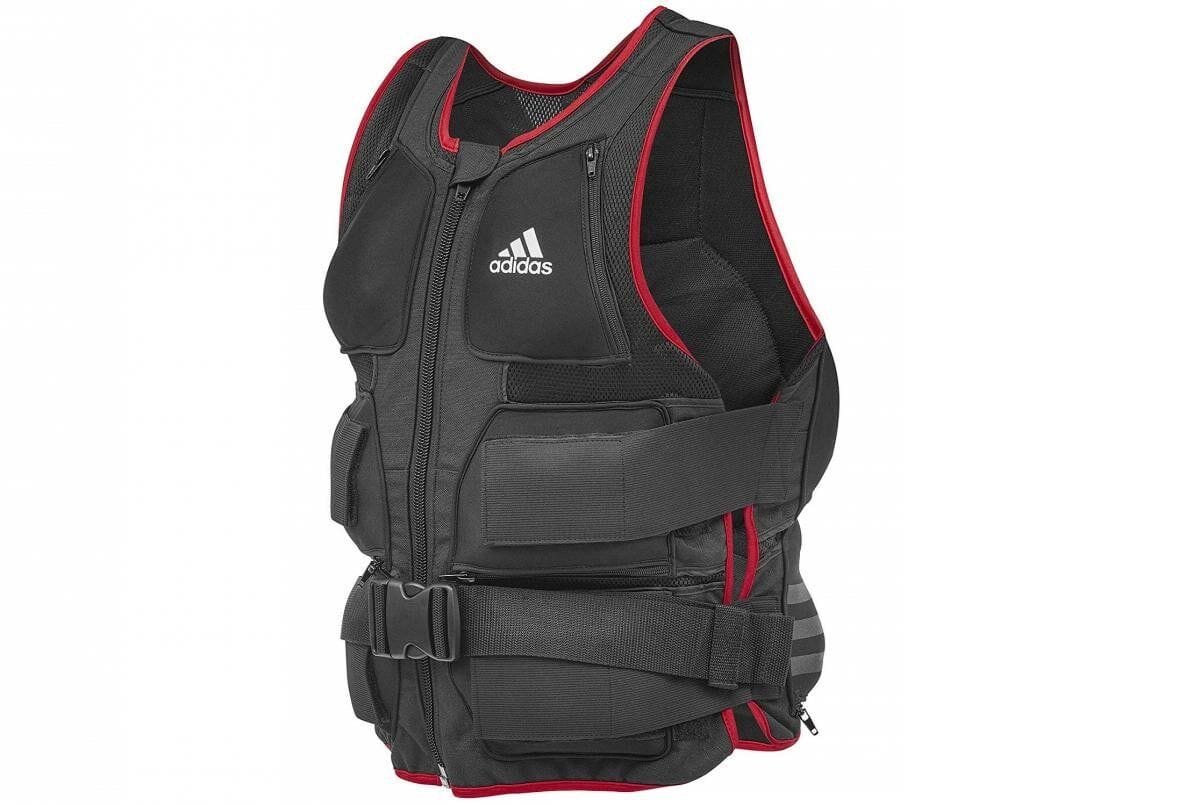 The Adidas weighted vest is perhaps the most expensive out of all the vests reviewed but is the most feature complete out of all the vests and is manufactured to a very high quality.
Those facts shouldn't come as a surprise to anybody – Adidas are known for being a top quality brand whose products demand a premium price. As a man who has owned various items of Adidas shoes and clothing, I can assure you the price is always worthwhile!
The Adidas weighted vest is designed to fit similar to a buoyancy vest used in water sports; the vest is worn like a jacket and has a full-length front zip which is then secured to fit using an adjustable buckle fastener.
The inside of the vest is lined with a soft and breathable material, which makes it suitable for wearing over clothes and also on bare skin.
The breathable material is more likely to absorb sweat than the material used in some of the other weighted vests, though the vest is machine washable, so as long as you follow the care instructions you should be able to keep the vest fresh.
Check the price of the Adidas 10kg weighted vest on Amazon
---
#3 Chris Heria Weighted Vest

Chris Heria is one of the key figures behind the brand Thenx and is an elite athlete in the calisthenics world. Chris recently brought out his own weighted vest as a training item to be used with Thenx's new weighted calisthenics workouts.
Sidenote: Check out his Instagram to see him using the vest himself here.
The vest is unique to the others on this list, and one of my personal favourites, though it's ranked lower on the list as it is the most expensive of all vests reviewed and is also (currently) only available to those in the US.
If you are wanting to spend a bit more cash for a quality product, then the Chris Heria weighted vest is a great choice.
The weighted vest is, in my opinion, the most appealing looking vest available on the market, and is also much more compact than other vests so it doesn't fit to the whole of your torso like the others of a similar weight do.
The vest uses exterior bag pockets with velcro pocket covers to hold the weights in, allowing you to add and remove weights as needed, up to a max weight of 35lb (just over 15kg). If you've ever had issues of weights falling out of your vest, then this design should prevent that issue from happening again.
Overall this is a really solid vest that I look forward to seeing more widely available and hope Chris can find a way to distribute the vest better to the EU market.
Visit ChrisHeria.com to get his weighted vest
---
#4 XN8 Weighted Vest

The XN8 weighted vest is available in similar weight limits to the Powerfly Pro Fitness vest, with a 10kg, 15kg and 20kg option available.
The XN8 weighted vest is one of the cheaper vests available, though you may find it a little less comfortable than some of the other options as there isn't as much padding.
The added bonus of this vest is that it has a reflective strip going around the vest, which is the only vest in a heavier weight to do so on this list. If you only use this indoors then you may find the added strip a bit ugly, but if you plan to use the vest outdoors (especially running near roads) then this will be a handy additional feature!
Overall I'd recommend this vest to those who are on a budget and not planning to use the vest heavily.
Check the price of the XN8 weighted vest on Amazon
---
#5 XN8 X Style Weighted Vest (8KG)

The XN8 X style vest is a fixed weight vest providing the user with a total weight of 8kg.
Because of its lighter weight limit, the XN8 weighted vest has been designed into a much more compact 'X' style which sits comfortably on the user like a minimal backpack.
The XN8 vest is a great product, though its design makes it much more suitable for users training cardio or endurance events.
There are a number of other features on the vest that proves that XN8 have designed the vest to this specific user type; the vest has reflective 'hi-viz' strips for safety when running outdoors, is available in a range of bright colours, and even has a mesh pocket to store a small bottle or energy gels in.
Although a lighter vest should also feel more comfortable to the user anyway due to the lighter load, the XN8 X style vest also has a soft padding neoprene material for added comfort.
I would highly recommend this product to those wanting to add weights to their cardio training or to wear during a CrossFit session, but I'd recommend opting for a different vest if you want to improve your strength training.
If you are using the vest to train bodyweight exercises like pull ups and dips, you may quickly find that the 8kg weight becomes too easy, and would need to purchase an additional vest to progress with a heavier weight.
Check the price of the XN8 X Style weighted vest on Amazon
By this point, you should hopefully know which of the available weighted vests are most suitable for you.
In this next section, you can now find out more about why you may want a weighted vest, for those of you who are not convinced by the benefits yet.
---
What are the benefits of a weighted vest?
There are many different benefits to buying a weighted vest, and everybody will have their own motivation.
Although the majority of my training is focused on bodyweight skills, I set myself a goal to complete the Crossfit Murph workout within a year, and this WOD requires you to wear a 10kg (20lb) vest throughout the whole workout.
You may also find that with Calisthenics, you progress at different paces with each exercise and skill. Whilst you may be using a resistance band and progressions to achieve skills such as a muscle-up or planche, you may find that you can comfortably complete sets of pull ups, chin ups or dips with relative ease, and need something to help push you further.
In the above example, you will find that the number of reps you are able to complete in one set is increasing with continued training, though because you are limited by your own body weight, you aren't increasing the resistance in a way that is optimal for building strength.
This is where you can benefit from a weighted vest, and perhaps more specifically, a vest that will allow you to slowly increase the weight as you progress.
Lastly, there are many people out there who simply wish to use a weighted vest to add resistance to everyday activities, such as walking the dog. A weighted vest shouldn't be limited to those with gravity-defying strength, and could even make a fantastic birthday gift to someone you had never thought suitable before!

Founder of www.calisthenics-101.co.uk. Training calisthenics since 2012.
Currently working on: 30 second one-arm handstand, muscle-up 360, straddle planche.