Gymnastic rings can be setup anywhere with rafters, a fitted pull-up bar or even a tree branch strong enough to support your body weight.
The simplicity of gymnastic rings means that they are portable and can be carried around in a small rucksack, since all they consist of is a couple of rings, some webbing and cam buckle straps to set the ring height.
Our Top Pick Gymnastic Rings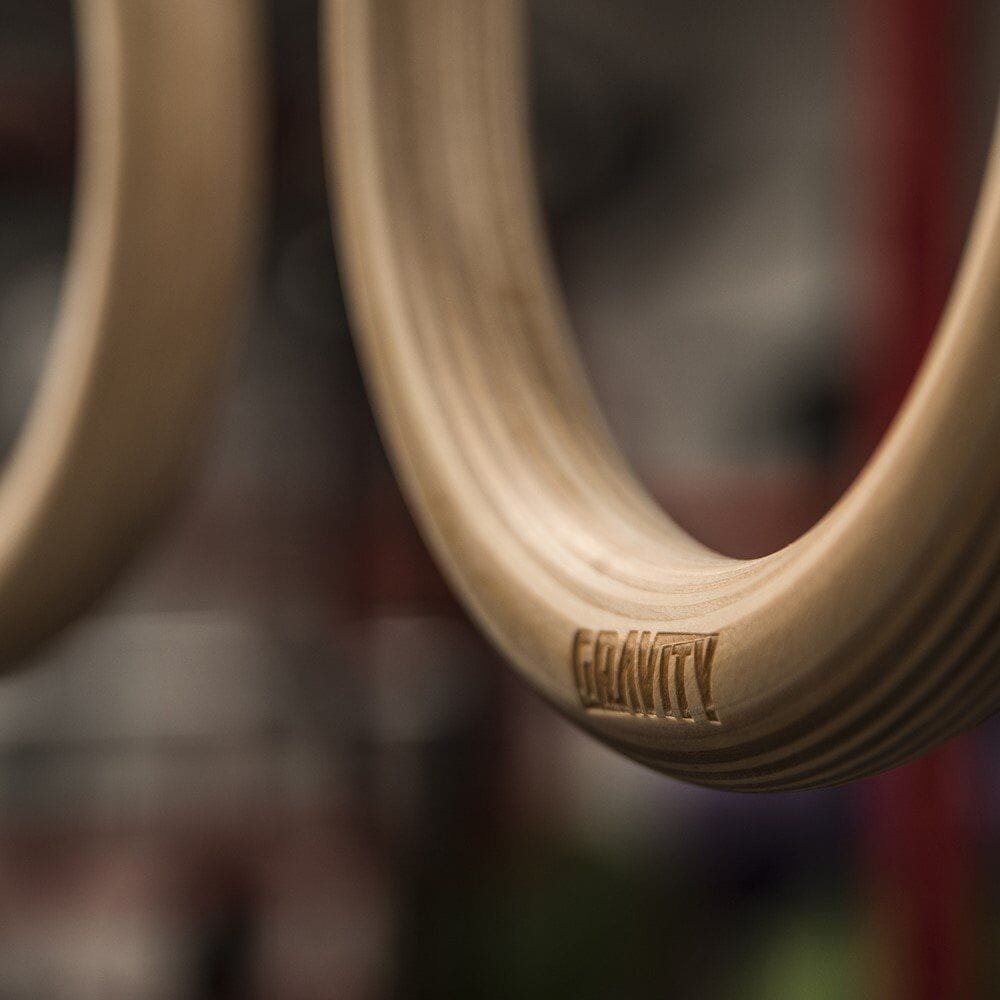 The Gravity Fitness Wooden Gymnastic Rings offer excellent value. All of Gravity Fitness's equipment lives up to the highest quality, and these rings are cheaper than any other quality wooden rings on our list.
There are two size options (28mm or 32mm) and the wider than normal webbing straps have been tested up to 400kgs.
There's also a lifetime guarantee giving you the highest level of confidence possible.
Buy direct from Gravityfitness.co.uk
Overview of The Best Rings for Calisthenics
The table below provides an overview of the different gymnastic rings we reviewed, ranked best to worst. Click on any title to check its current price.
---
​Why Choose Wooden Rings over Plastic Ones?
In our product reviews below, we currently recommend four wooden gymnastic rings and one plastic one too.
From a functional point of view, wooden rings perform better.
The reason is simple.
When exercising hard, your forearms and hands get sweaty. Wooden rings grip easier while plastic ones tend to slip and slide when perspiring.
Strictly from an aesthetical standpoint, it's a personal choice whether a natural wood finish is preferred over a plastic one. I believe that a quality pair of gymnastic rings should feel smooth and comfortable in your hands. This compares to plastic rings which feel like… well… plastic! However, ABS plastic rings are offered in an array of fun colours.
From a pricing standpoint, the plastic rings will always be slightly cheaper. Because of this, plastic rings are still a top choice for those on a budget. The difference isn't huge, but if you're building up a collection of home exercise equipment, pinching the pennies might be important. In which case, check out our fifth product under review.
---
The UK's Best Gymnastic Rings for Calisthenics
Below is our list of the top 5 gymnastic rings, based on a combination of quality, value and suitability.
#1 Gravity Fitness Wooden Gymnastic Rings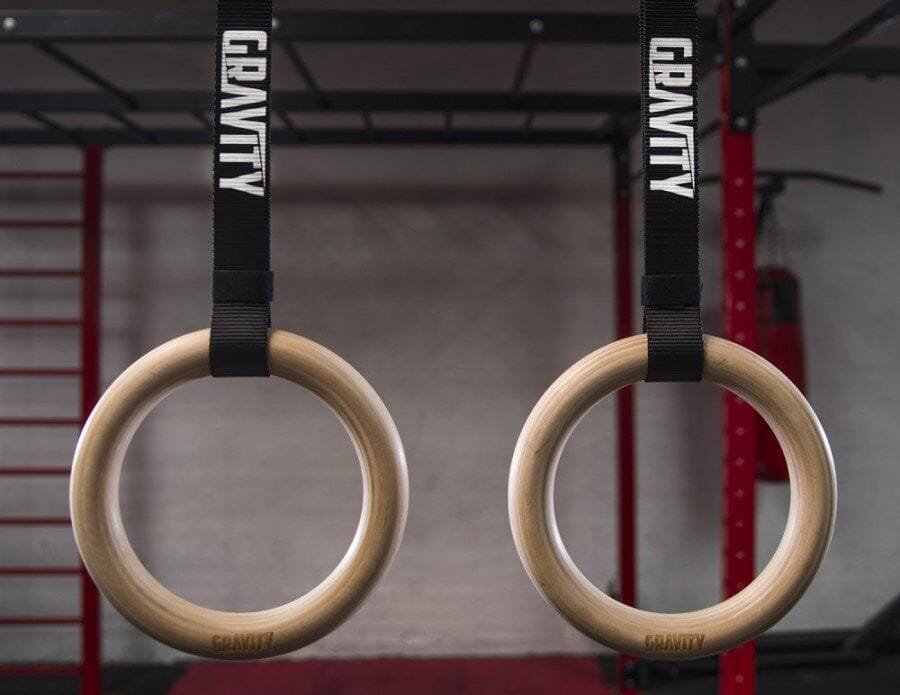 The Gravity Fitness wooden gymnastic rings certainly look the part. Whilst each ring's birch wood appearance is quite pale, it has delicate markings on it. The eye-catching Gravity logo is added at the bottom of each ring just like it is with the Pellor gymnastic rings reviewed below.
You can see us setting up and putting the rings to use in our video review here.
Each ring which is available either in 28mm or 32mm sizes supports the weight of at least 350kg. In any case, the superiority of the materials and overall build quality provides support for virtually anyone who wishes to perform some Calisthenics to lose weight or build that six-pack this year.
The black Nylon webbing is 38mm in diameter (some other brands only use 25mm wide webbing) and has a black-coloured clam clasp to secure the right length for each suspended wooden ring. The clasp is easy to use and reliable once set up correctly. Each strap also has the company's branding along its length which is distinctive and adds something to the appearance compared to the Pellor ring set which didn't do so.
These gymnastic rings are designed to be deployed in a variety of situations. Certainly, over a pull-up rack is workable, but tower workout gym rack and other equipment that can support your body weight would be fine too. For travelling, each webbing strap comes with a tie to roll it up and prevent the webbing from unspooling while in transit. The two wooden rings, webbing and buckle will pack down well in a backpack or suitcase.
Overall, these Gravity Fitness wooden gymnastic rings offer excellent value. The two size options, wider than normal webbing straps and prominent branding deliver confidence. There's also a lifetime guarantee which is not to be discounted either. We doubt you'll need it though.
Buy direct from Gravityfitness.co.uk
---
#2 Pellor Olympic Gymnastic Rings Wooden Gym Rings

The Pellor Olympic gymnastics rings are made from birch wood giving them a light-coloured, grained appearance which contrasts perfectly with the black Nylon webbing straps. The Pellor branding is present at the bottom of each ring. The rings are available in a smaller size and a larger, 33mm one which is better suited to people with larger hands.
The quick lock cam buckle system is simple to use and easy to release when needed. The black webbing is strong and wider than typical with gymnastic rings on the market. This helps balance the weight without overstressing the Nylon which is a design feature that breeds confidence.
Attention has been paid by Pellor to the smooth grip possible with their individual rings. There's little risk of your hand sliding when using the rings enough to work up hand perspiration. The straps are 4.5 meters in length allowing you to set the rings up in different ways based on individual circumstances.
Each ring, webbing and buckle are built to hold up to 200 kilograms each. Therefore, when both rings are used, they'll hold up to a 400-kilogram person. This is excellent news for anyone who's overweight or obese and wishes to get into bodyweight exercises using this type of equipment. A range of motion is possible along with the usual dips, push ups, pull ups and other coordinated movements once you've gotten accustomed to using rings to get a proper workout.
They are ideal for people serious about this form of exercise or just getting in a solid workout.
Overall, the Pellor wooden gymnastic rings are one of the best gymnastic rings for Calisthenics, but have fallen short at position 2 due to their slightly higher price.
Check the price of Pellor Olympic Gymastic Rings on Amazon
---
#3 PULLUP & DIP Wooden gymnastic rings

The PULLUP and DIP wooden gymnastic rings endeavour to bring much to the table against stiff competition. Their two wooden rings are also made from birch wood and come in one size – 28mm — suitable for either men or women to use for exercising. The rings provided as much grip as you'd expect and beat out plastic rings in this respect. They also support up to 200 kilos per ring.
The black Nylon webbing strap is a generous 38mm wide keeping with the theme that wider webbing equals greater strength. The strap has measurement markings on it and is 4.5 meters in length which is plenty to hang it over a tree outdoors, a gym set or a PULLUP & DIP pull up bar that's already been set up. There are also two enlarged belt loops to secure the rolled-up webbing when not in use too.
Unusually, there's also a door anchor device to make it possible to incorporate door use safely instead of needing to position the strap another way.
There are also a bunch of extras providing added value for buyers here. A nicely branded protective black sports bag with a convenient drawstring at the top and white PULLUP & DIP branding is provided. In addition, a larger carry bag is also included as a backpack. And finally, there's a colour PDF file available for download via email registration with 45+ illustrated exercises that can be performed using their equipment too.
Overall, the PULLUP and DIP gymnastic rings deliver where it counts. The company packs several extras which many other brands don't think to do or considered unnecessary. The total package weighs a little over 1.2 kilos making it very portable too.
BONUS: For those of you who are interested in purchasing a pair yourself, I've bagged an exclusive 10% discount for users who purchase directly from PULLUP & DIP. Simply follow this link and use the coupon code calisthenics-101 at checkout to get 10% of your order!
---
#4 Wooden Gymnastic Rings by Garage Fit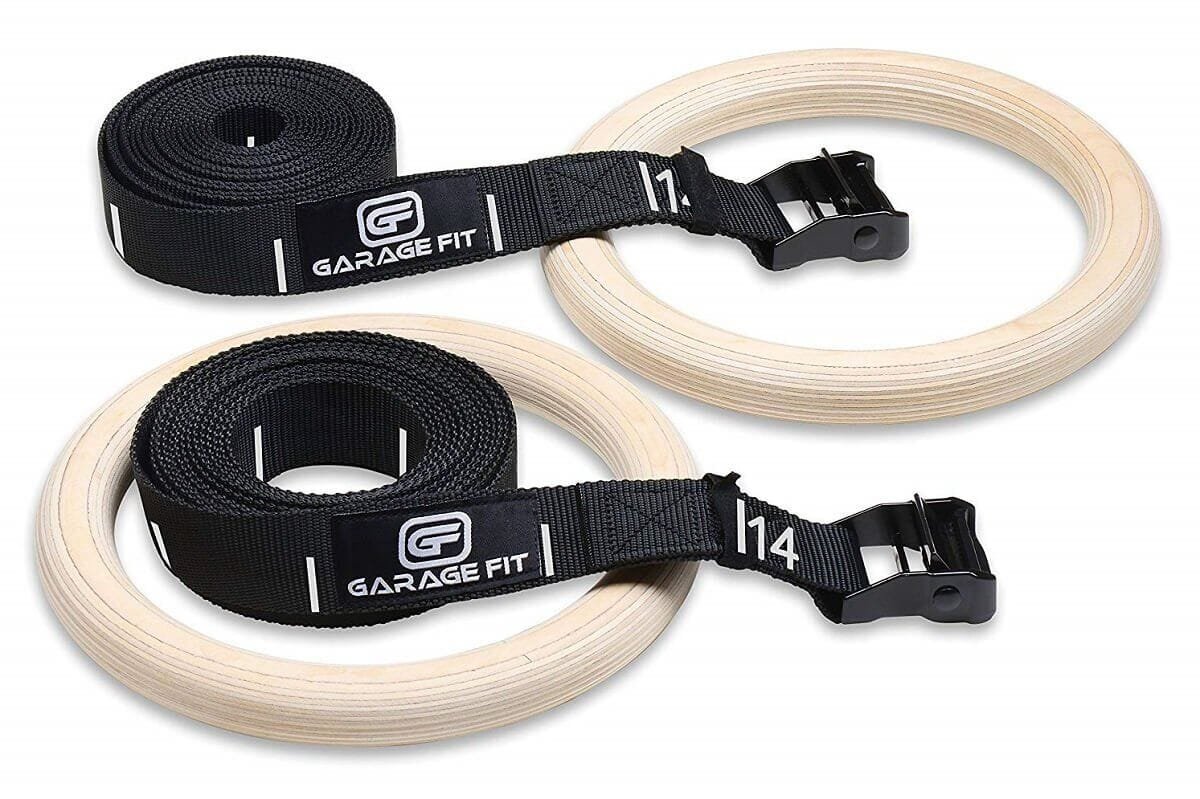 The wooden gymnastic rings made by Garage Fit provide a capable fitness product suitable for Calisthenics and other workouts. The wooden rings are durable. They're offered in two sizes 27.94mm (1.1 inches) or 31.75mm (1.25 inches) which is similar to other similar products reviewed in this buyer's guide.
The black Nylon webbing straps are each 4.57 meters (15 feet) long and 35.1mm (1.5 inches) wide. Both the length and width are on the longer end of the spectrum compared to other gymnastic ring exercise equipment. Each strap has the Garage Fit logo in white, has markings for easy measurements, and uses a black securing buckle and Velcro to hold everything in place securely.
The weight capacity for each ring is different depending on the model selected. The smaller 27.94mm (1.1 inches) model fully supports 200 kgs (440 lbs) per ring. The slightly large 27.94mm (1.1 inches) model supports a larger weight of 250 kg (550 lbs) which exceeds other wooden gymnastic ring products under review.
Overall, these wooden rings are marketed as "unbreakable". They might well be. Scores of different exercises can be performed using them over their lifetime. They also provide enough grip to not require chalk or to wipe them down with a towel either.
Check the price of Wooden Gymnastic Rings by Garage Fit on Amazon
---
#5 REEHUT Gymnastic Rings (2 Pcs, 4.5m long) Home Gym Set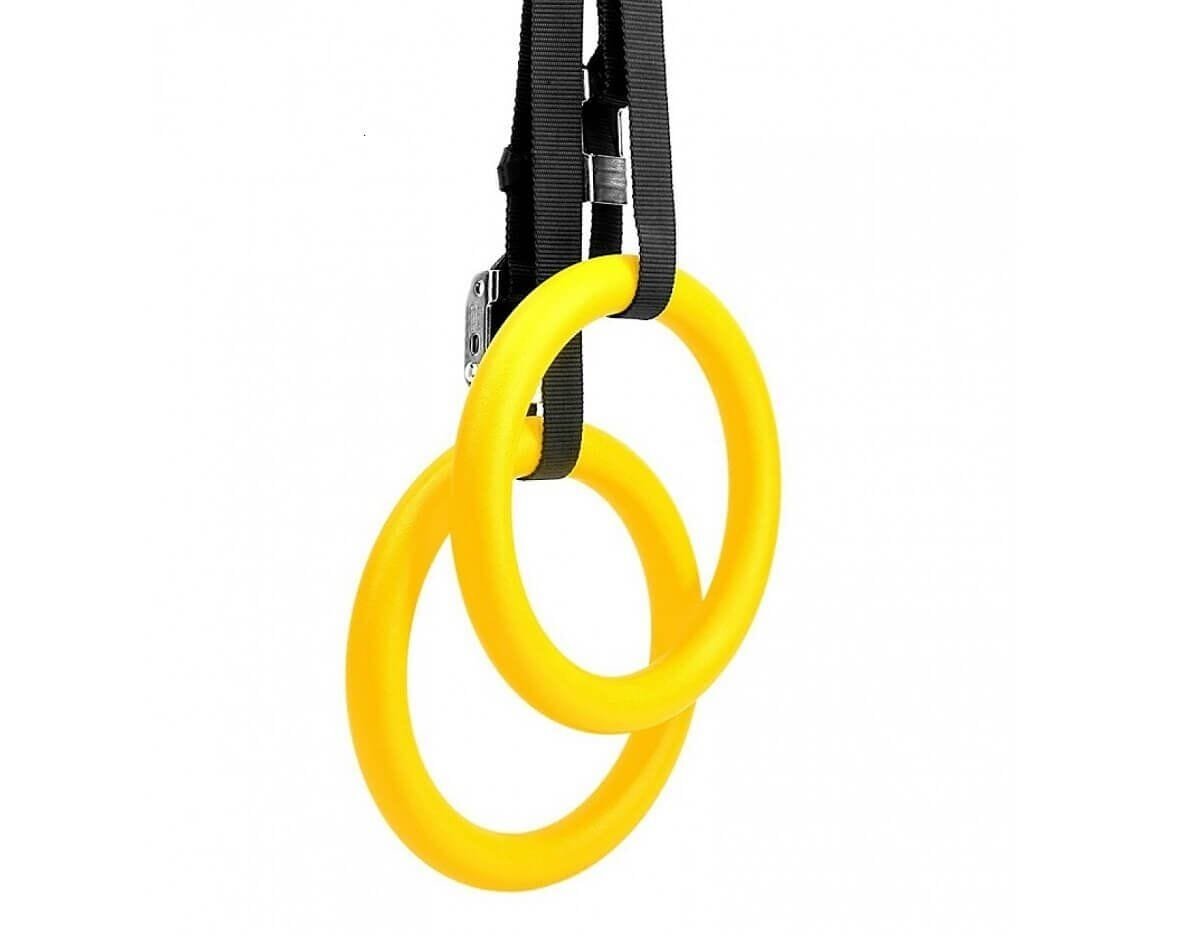 The REEHUT gymnastic rings are a top seller with people who either want a bright-coloured set of gym equipment or are looking for a bargain.
These ABS plastic gym rings are available in black, sapphire blue, fruit green and yellow ring colours. The rings themselves have a dimpled appearance which assists with grip and to some extent manages any perspiration too. The rings are all the same size with an outside diameter of 22.8cm (9 inches). The width of each ring is 25mm (1 inch).
The Nylon (polycarbonate) materials used in the webbing straps are 2.5cm wide and runs to a 4.5m length. Both are to the expected measurements here. The shiny buckle used to secure the strap in the correct position tucks away neatly with a Nylon loop that holds the rolled-up webbing in place when not in use.
The manufacturer claims their gymnastic rings support a weight of 136kg (300 lbs). The buckle mechanism looks solid enough to trust that.
Overall, these are some of the best ABS plastic gymnastic rings available. They'll last a reasonable amount of time and even come with a 16-page downloadable eBook with sample exercises too.
Check the price of REEHUT Gymnastic Rings on Amazon
---
How to Hang Gymnastic Rings Correctly
Once you've bought a pair of gymnastic rings, the first question you're going to ask is how to hang them.
In this section, we'll cover where you can safely hang the rings and how to use the buckles to secure them at the correct height.
Where Can You Hang Gymnastic Rings?
The beauty of gymnastic rings is that the webbing straps are usually around 5-6 m long, which gives you much more options for where to hang the rings.
Here are just some ideas of where you can hang them:
Over a pull-up bar
Over a thick tree branch
Over indoor exposed beams
Through the ring of a basketball hoop
Over a climbing frame or scaffolding
How High Should You Set Your Gymnastic Rings?
Most exercises on gymnastic rings are usually performed either above the rings or below the rings, and you'll want to regularly adjust the height of your rings depending on what exercise you are doing.
An example of a 'below the rings' exercise is Australian Pull-Ups, which require the rings to be set at around chest height. On the other and don't need much space available above the rings.
An 'above the rings' exercises would be something like ring dips or even Muscle-Ups. With the Muscle-Up, you'll need to have the rings around 30cm higher than head height, and will need enough room above the rings so that you don't hit your head on anything at the top of the movement.
Ideally, the webbing straps should be hung over something at least 3m above the floor, that way you have the option to easily higher or lower the rings to the desired height without running out of webbing strap or being restricted in what exercises you can perform.
How To Alter The Height Of The Gymnastic Rings
The first thing you should do is understand how the buckles work that way, you can adjust the height of the rings quickly and easily, without having to refer to the instructions.
You can find a great video below by Antranik on how to set up the rings and adjust the buckles correctly.
Note: For anybody looking for a gymnastic rings workout program, Antranik's Rings Bodyweight Training Routine was highly ranked on our list of calisthenics programs reviewed.

Founder of www.calisthenics-101.co.uk. Training calisthenics since 2012.
Currently working on: 30 second one-arm handstand, muscle-up 360, straddle planche.