For a flexible gym at home and in the park, nothing beats the convenience of a portable pull up bar. Whether it's a free-standing rack, one that can attach to a tree in the park, or fit between a door frame, it's an affordable piece of gym equipment.
There isn't a "one size fits all" system here because everyone has their preference. A power rack type design can be easily moved between rooms and is likely the sturdiest. Using a doorway pull-up bar is assumed to be relatively safe to use (despite the many "exercise fail" videos on YouTube with hapless exercises seeing the pull-up bar fall from the doorway). Properly fitting a doorway pull up bar to the doorframe or wall is required to create true stability but this then sacrificing portability at that stage.
Bringing along a carefully designed pull-up bar to the park is possible with the right equipment. It's a bit limiting though. Also, not everyone wants to be as public with their workouts!
Many readers may find that they prefer the portable free standing pull-up bar.
In this guide, I review the best four products for performing pull-ups or chin-ups at home or elsewhere. I also confirm our recommended portable pull-up bar and provide answers to commonly asked questions around using a pull-up bar.
Overview of the Best Portable Pull-Up Bars Available in the UK
The list below shows an overview of the various portable pull-up bars we've reviewed, ranked from best to worst. Click on any product title to confirm its current price.
The Best Portable Pull-Up Bars Available in the UK
For your ease, the portable pull-up bars below are listed in the recommended order.
#1 Gravity Fitness Portable Bodyweight & Pull-Up Rack
Weight: 19kg
Max user weight (for pull-ups): 110kg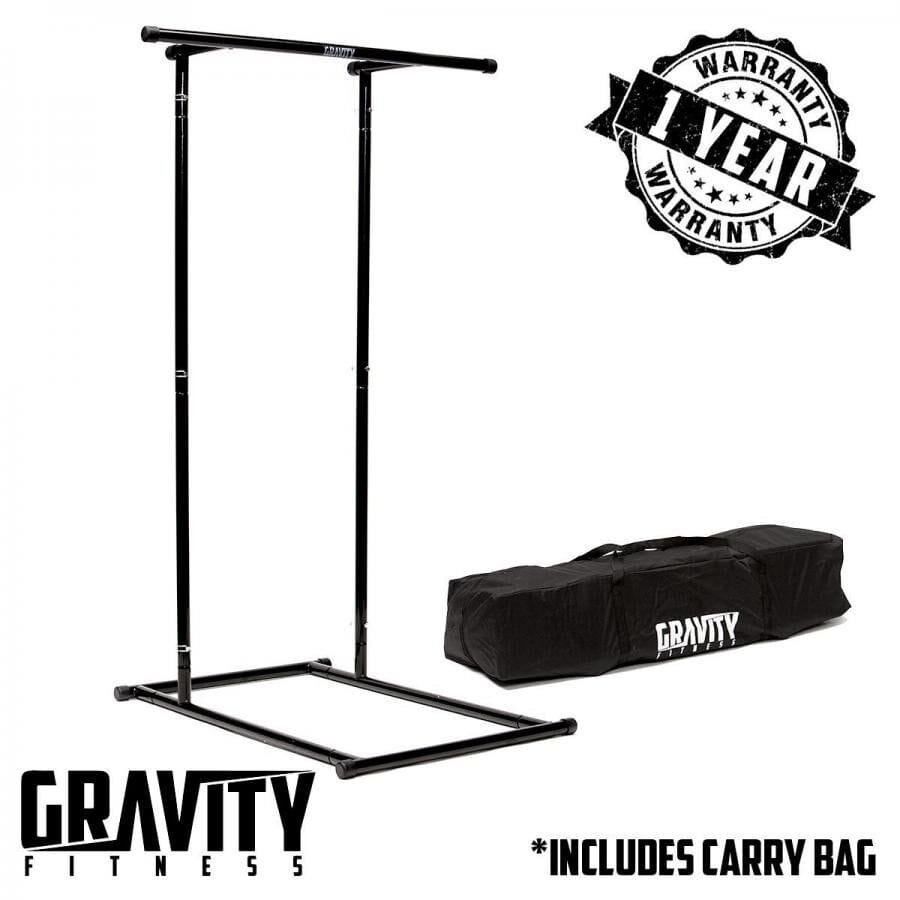 The Gravity Fitness Pull Up Rack is larger than the doorway or tree-hugging pull-up bar product options, but crucially it resolves several issues. Namely that it can breakdown more easily than a Power Cage-type solution, and it offers a greater range of exercise positions compared to other products.
The pull-up rack can be assembled (and disassembled) quickly. It's been expressly designed to offer this feature because portability was a major goal. The company behind this product is a leading one in the UK for general fitness equipment and pieces that work well for performing Calisthenics.
Along with the ability to dismantle it quickly, there's a convenient Gravity Fitness storage bag provided free of charge. This allows for easy carrying of the equipment, putting it into the boot or back seat of a vehicle, or even slung over your shoulder while riding a bike. It's highly convenient for people who wish to get outside or share the equipment with a friend and need portability without sacrificing build quality. Also, the equipment may be stored temporarily without risking it getting dusty too.
The framed design will hold strong appeal for people who don't trust the stability of a portable doorway pull-up bar that's not been screwed into the doorframe. Once assembled, it's reasonably stable and is perfect for knocking out a few chin-ups or pull-ups or the 'Kipping' moves from CrossFit. When performing your exercise movements cleanly, the frame moves around less too.
For beginners who are struggling with their form, the Gravity Fitness Pull Up Rack will rock a bit. If you find this to be the case, then adding a couple of weight plates will do the trick.
A word of warning for heavier people: The maximum weight limit is approximately 110 kilos or around 17 stone. When near or exceeding this weight limit and wishing to get fit, then it's best to look at a heavy Power Rack like the MiraFit Power Rack which has a greater weight limit.
Calisthenics 101's Top Pick
Of the pull-up bars reviewed in this guide, the Gravity Fitness Pull Up Rack is my recommended pick.
For people who want to move quickly or don't read guides to the end, it's possible to quickly verify the current price and availability of the Gravity Fitness Pull Up Rack on GravityFitness.co.uk here, and read the product highlights from the summary below:
Great value for the build quality and durability.
Its main competitor is the Pull Up Mate, which previously ceased trading as of 1st February 2020 but the company has since been relaunched. However, the Gravity Fitness Pull Up Rack was always the more affordable product of the two.
Versatility to use the pull-up bar in a variety of ways, exercises, and positions.
Compactness and ability to dismantle it quickly to go portable!
The appealing design and aesthetic.
---
#2 PULLUP & DIP's Portable Pull Up Bar
Weight: 8.9kg (Indoors) or 11.8kg (Outdoors)
Max user weight (for pull-ups): 150kg
The PULLUP & DIP flexible pull up bar is designed to wrap around a tree, lamppost, pillar, or something similar. It is constructed with a steel powder coating and stainless steel for the multi-bars.
When assembled, there is a comfortable 40cm distance away from the object it is attached to.
It's important to appreciate that there is both an indoors only and an indoor/outdoor version of this product. The latter allows greater portability to temporarily attach it variously to trees, pillars, and other outside objects.
The flexible pull up bar does not come supplied with either a carry bag or a backpack. While it does fold down very well for the ultimate in portability, it's difficult for customers to judge how large of a bag or backpack they'll need. This is particularly true if they're ordering one online.
Designed in Germany and manufactured within the EU, this dip bar and pull up bar gym equipment is ideal for people who prefer to avoid busy gyms. It saves money on a gym membership while allowing you to improve your posture and build strength too. Indeed, the company behind it boasts about 35 different exercises that can be performed using this equipment, so you'll never get bored!
Our readers can enjoy a 10% discount using our exclusive discount code. Simply
follow this link
and use the coupon code
calisthenics-101
at checkout to get 10% of your order!
The product comes with a 2-year warranty too.
---
#3 Pull Up Mate
Weight: 19kg
Max user weight (for pull-ups): 110kg
I could show you a picture of the Pull Up Mate product, but they have a video demonstrating how to use it. This video is from the manufacturer and provides a great insight into the functionality of their product.
Check it out below:
The Pull Up Mate has a similar looking design to the Gravity Fitness Pull Up Rack, but it requires deeper pockets to acquire one.
When looking at the Gravity product in comparison to the Pull Up Mate, the free-standing frame concept is quite similar. Notably, the base uses a wider stance to spread the weight during usage and try to avoid the rocking sensation. This does succeed in adding a little bit more stability, but as noted above, adding some weight plates does just as well while making the equipment no less portable.
The design with its prominent red and black colours is more striking. Whether that appeals to you over the Gravity Pull Up Rack is a matter of personal choice.
While the extra stability may be a selling point for the Pull Up Mate, it's nothing that a couple of inexpensive sandbags cannot fix. When performing dips, pull-ups, or rows, either piece of equipment will be steady enough.
To increase the appeal of the Pull Up Mate, the company behind it has been releasing variation to the grip bar. Also, there is now the Pull Up Mate 2 which is heavier and sturdier but is even more expensive.
Important Note: The company behind Pull Up Mate went out of business around the 1st of February 2020 but has since relaunched. According to recent reports, their products are not always in-stock. Therefore, you may need to check the stock levels before ordering. If they're out of stock, then you may wish to choose a different brand instead.
Alternatively, you could wait until they're back-in-stock if you're completely sold on either the Pull Up Mate or Pull Up Mate 2.
---
#4 Trend-Welt Pull-Up Bar for Door Frames
Weight: 1.2kg
Max user weight (for pull-ups): 300kg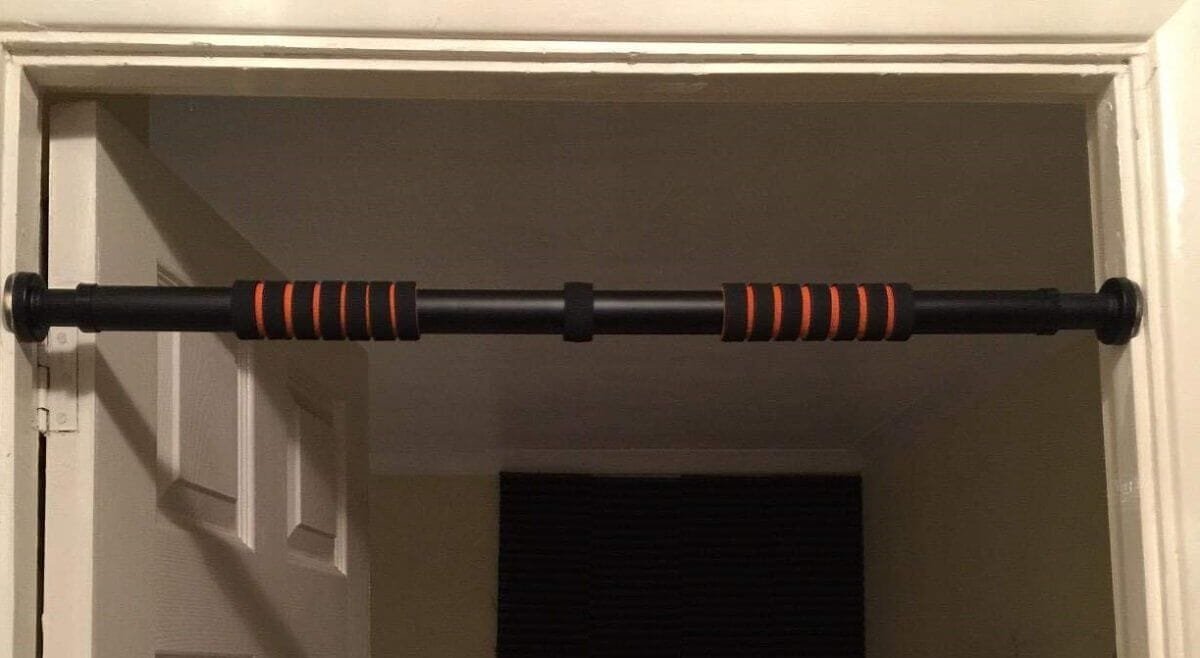 The Trend-Welt Pull Up Bar is telescopic, so it's designed to fit between different door frames (from 72 to 105cm) and to remain in place.
The design includes its telescoping steel rod and foam grip handles. It extends out as needed. The steel rod is made using 12mm steel, not the usual 8mm as seen with inferior pull up bars. The end sections include 5 separate welds to hold the bar together, instead of the 3 that's typical. Also, the bar extends to a length that is up to 20% longer than some other pull up bars for door frames.
The weight of this portable doorframe pull-up bar is just 1.2kg. Despite this, it can hold up to 300kg. There is the option to fit it to the wall, but extra equipment must be ordered from Trend-Welt to do so.
Points to note:
Bear in mind that it's necessary to screw the bar around to get the telescoping pole to fit in the doorframe properly. When doing so, the paintwork may crack that's beneath the bar once fitted. It's also possible that the doorframe and/or plaster on the wall may crack under the pressure necessary to hold the bar in place for a heavier person.
The end caps of this product are made of a softer material to try to avoid this, but by the nature of the design of doorway pull-up bars, this is a real possibility.
This is one of the reasons why I recommend the portable free standing pull up bars over other design options.
---
The Design of Portable Pull Up Bars Is Important
In this guide, we mostly talk about portable free standing pull up bars compared to ones that wrap around a tree or fit inside a doorway.
Why does the design of a pull-up bar matter?
While a pull-up bar (or rack) both provides similar portability, in other respects they're quite different.
For someone wanting to workout at home with extremely limited space, then the Trend-Welt Pull-Up Bar provides good value and excellent functionality. It takes up little space in the doorframe and can be removed when not needed. It just screws into place. However, as noted above, there are some risks with the installation. However, if space is at a premium, it's still a great option.
If you're someone who prefers to exercise outside in a park, then PULLUP & DIP's portable pull-up bar system is ideal. It has an innovative design and with the indoor/outdoor version, it can be set up inside the home under some circumstances too.
The other option is essentially a pull-up rack with a pull-up bar (usable as a chin-up bar too). This provides the best of both worlds. It is portable. It can be broken down and packed away into a bag quite quickly. But it also poses no risk to door frames or plaster because it's free-standing. There's also no risk of the pull-up bar coming away from the door frame because it wasn't fitted properly. So, from a safety angle, the pull-up rack design is safer too.
Frequently Asked Questions
How much does a portable pull up bar cost?
There's basic doorway pull up bars that won't break the bank at £20 to £40. However, you may be putting your doorframe at risk when using them, especially the cheaper ones.
A reliable pull up bar that's either free-standing or offers indoor and outdoor convenience is likely to set you back £200 to £300. A highly versatile piece of gym equipment, it's important to factor in how much you'll save in monthly gym membership fees. Plus, you won't have to queue for the equipment you wish to use next either.
Is Free Standing Pull Up Bar Easy to Transport?
Of course.
Both the Gravity Fitness Pull Up Rack and Pull Up Mate are designed to be portable.
For instance, the Gravity product can be dismantled in 2 minutes and packed away in their supplied bag. The whole package weighs under 20kg, so it can be carried reasonably easily too.
Can I Leave a Free Standing Bar Outdoors?
Given the unpredictable UK weather, it's a bad idea to leave the equipment outside. Rainwater could cause the steel to rust which wouldn't happen if it's only used indoors. Specially designed outdoor gym equipment is needed – the type that's used for outdoor gyms or playgrounds – to leave it outside permanently.
One affordable option for outdoor use is a wall-mounted pull-up bar. It can be fitted to a wall and stay in place all year round. However, check with the manufacturers of these to confirm if their products can withstand the varied climatic conditions in this part of the world.