While we tend to refer to people over the age of 65 as senior citizens or the elderly, the reality is that difficulties with mobility can begin quite a few years' earlier. When overweight or obese, this causes all sorts of related diseases when carrying excess weight for too long.
As the years add up, problems with movement in your 50s can worsen into the 60s and beyond. For this reason, it's always best to tackle weight gain through exercise and dietary changes as early as possible – it only gets harder with age when not exercising. Maybe you've noticed that already?!
The difficulty as a senior (or if you're soon to be one) is that staying fit and healthy becomes more difficult. The joints aren't as happy when you move around. Impact damage perhaps from jogging around the park in your youth start to rear its ugly head. It becomes necessary to look at other forms of exercise that will work better for you.
To assist you, we have a shortlist for the best recumbent bike UK sourced and some additional information to explain why recumbent bikes are particularly useful when finding exercising more difficult with age. So, let's dive right in.
Overview of the Best Recumbent Bikes for the Elderly
Our table below offers a short rundown of the best recumbent bike for seniors that we've reviewed on your behalf. They're all available in the UK market. They're listed from our top pick to the fourth-best. Just click on the product name to verify its current price
---
The Role That Impact Damage Plays with Exercise in the Pursuit of Lifelong Fitness
The main issue that faces older exercisers is past and future impact damage.
The joints wear out with excessive use. Namely, the cartilage between the joints that prevent parts of the joint from rubbing together wears down and now causes pain. Also, tendons can become tight and less supple even making stretching difficult. This all contributes to the difficulties in staying active and keeping mobile.
As a result of past exercising and due to the natural ageing process too, exercise is now painful when using traditional exercise equipment. It's necessary to switch things up to make working out more enjoyable again. Otherwise, you'll do more harm, than good.
---
Why Choose a Recumbent Exercise Bike for Your Home?
Let's first consider the difference between a regular bicycle and a recumbent exercise bike.
Sitting on a regular bicycle and riding around the neighbourhood isn't great when you're older. Technically, you're supposed to be riding on the road — the car exhaust fumes and uneven surfaces is a bummer though.
Also, for men who are mindful of health issues relating to their prostate which affect many ageing males, having all their weight centred on a narrow seat at their most vulnerable point isn't too clever.
What about a recumbent exercise bike? This takes several steps forward.
Firstly, it's indoors without uncomfortable bumps in the road, road fumes or obstacles to avoid.
Secondly, they come with much wider seats that allow men or women to sit more normally without the usual rider's groin issues. It's also worth noting that the position is reclined back which spreads the upper body's weight across the long backrest and the padded seat. This modified design takes the pressure off the lumbar spine and the glutes, making it far more comfortable to exercise in this position for 30-60 minutes.
For older people and the elderly, using this type of indoor exercise bike makes exercise far less arduous. The knees take no impact, the back is supported, and there's the flexibility to exercise as little or as much as you like. No gym peer pressure to do more because other people are watching you either.
---
How Does Other Fitness Equipment Stack Up for Seniors?
Let's now compare different senior-friendly fitness equipment to see what they have to offer for older exercisers:
Elliptical trainer – An elliptical trainer, where you stand elevated on two platforms and rotate your legs to move the platforms forward in a swinging motion, remains popular. This is because the trainer removes impact damage that comes from jogging or running. However, it still relies on good balance at all times and putting most of your body weight on your knees, ankles and feet.
Rowing machine – This exercise equipment provides a seated position while rowing. These machines offer a seated exercise position and zero impact damage. Rowing does involve reaching forward and back which requires strong arms, dependable elbows, muscle strength and the ability to move the back forward and back when going through the rowing motion. It depends on your fitness and flexibility whether this exercise motion is suitable or not at your age.
Treadmill – Generally speaking, treadmills should be avoided for seniors due to the impact damage when running. The exception here is with walking on them and not jogging. With that said, all of your weight is placed on the knees, ankles and feet again which is less than ideal.
Related:
---
The UK's Best Recumbent Bike for the Elderly
Below are our four selected recumbent bikes that we believe offer the best value and features for seniors wanting to exercise at home.
#1 JLL RE100 Recumbent Home Exercise Bike (Best Value)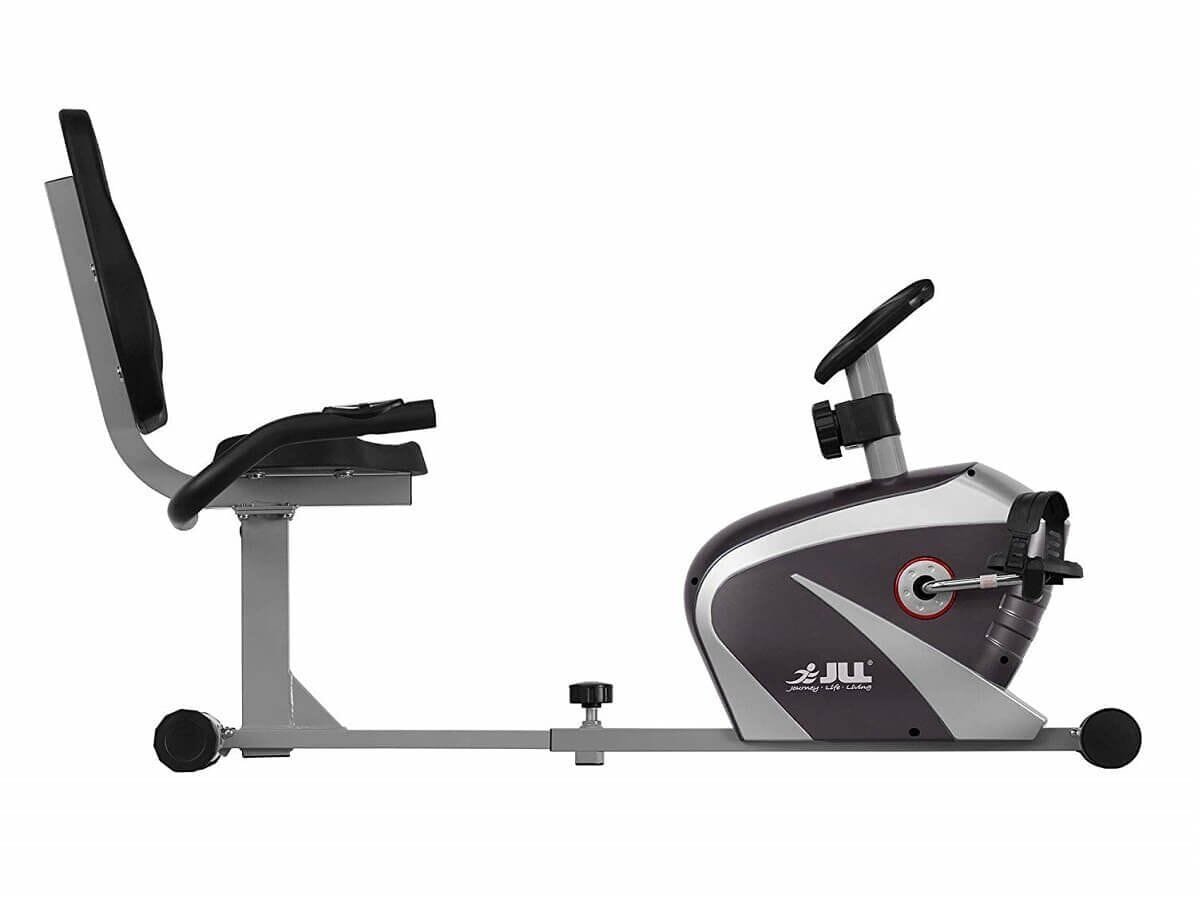 The JLL RE100 is a recumbent bike that's easy to set up and start using the day it arrives. It currently gets our vote as the best recumbent bike for the elderly. Considerable thought has gone into its design to make it useful for seniors. This is what we like the most about this product.
The seat is 15-inches across and has been designed to offer a comfortable seated position. The wide and tall back is almost a diamond shape and so is substantial enough to support the body weight well. The seat is also nicely padded too. The seat's height is around 16-inches off the ground and has 7 positional adjustments to change the angle for maximum comfort. It is a little on the low side for some people, but when using the front handlebars for support, it's relatively easy to lower yourself into the right seated position.
The 5-kilo flywheel is connected to the crank through a rubber band. Magnets are used to create resistance when peddling away. There are 8 selectable resistance levels to increase the difficulty as you become fitter. They're sure to help you work up a sweat if that's what you're going for but equally can be set to provide a gentle ride too. Also, the pedals have straps to keep the feet in place for the ride.
The wide handlebars come with built-in heart rate sensors to track your performance. The data collected feeds into the digital console in the centre of the handlebars.
The display console only has 3 buttons on the front, yet the screen can show the speed, pulse rate, riding time, distance travelled, calories burned and odometer reading too. Admittedly, when seated way back, it's difficult to read the display from that distance. Also, there's no Bluetooth system to connect exercise apps to the bike's control system or data
There's a weight limit of 100 kilos for riders. The equipment itself is at least 26 kilos in weight. It can be lifted at the seat end and with the use of rubber feet stoppers, slides across a carpet. However, anyone with a bad back should seek help from younger friends or relatives to set the bike up in the right position ready for use.
Customer support from JLL has been noted by some customers as very responsive to any issues with their products, which bodes well.
The product meets the ROHS CE standard and comes with a 12-month warranty too.
Check the price of JLL RE100 Recumbent Home Exercise Bike on Amazon
#2 DKN RB-4i Recumbent Exercise Bike (Best Quality)

The DKN RB-4i is an altogether larger, more complicated recumbent exercise bike than the JLL above. That isn't necessarily a bad thing – it depends on the features needed or wanted.
The flywheel on this beast weighs 11 kilos compared to just 5 kilos on the JLL model. This is coupled with a digital resistance system that provides 32 different levels of resistance. Therefore, whatever strength is present in your legs, you can get the workout you want from mild and enjoyable to punishing and unexplained!
The backrest is robust with a thick lumbar section and solid upper back support along with a comfy padded seat that's wide enough to be pleasant over a 30-60-minute ride. There is a pair of extended arms attached to the seat which are comfortable to reach. Also, a set of pulse grips are built into the arms that contain sensors to supply updated heart rate information to the console.
The seating position is adjustable in various ways to suit different leg lengths and desired angles. Indeed, someone who's a little over 5 feet tall or a person in the 6-foot range can use this bike just fine. The foot pedals provide good support and have wide adjustable straps to avoid feet working loose during motion.
The dual-colour display (LCD) is far larger and wider than the one provided with the JLL model, so it may suit you better if you have sight issues and/or don't wish to wear your glasses when exercising. The push controls are a good size. The digital readout tracks duration, speed, calories burned, distance ridden, heart rate, etc. It's also possible to wear a chest strap to make the heart rate even more accurate (not supplied).
The console offers 12 workouts that are programmed into the system and are easy to access from the display. There are also 4 profiles for different riders who may wish to set their programs individually and keep them separate.
Below the console is a curved holder for a tablet to sit in landscape orientation to watch YouTube, listen to podcasts and to do something else while riding. There's also a water bottle holder below that too.
With apps, beyond the software powering the console itself, the bike is compatible with both the Kinomap app and Vescape exercise-oriented mobile apps. The bike itself has Bluetooth capability to communicate with a smartphone or tablet to tie it all together.
The idea with Kinomap app is to match the virtual world with reality. Transport yourself as a virtual rider so that you can see other places while pedalling away. For instance, the app integrates with the bike to let you alter the incline or resistance level to match what you're seeing on the screen when approaching a hill. It's also possible to race with friends who are riding on their bikes and using the app at the same time too. The app now has over 70,000 miles of track accessible over the internet too.
The Vescape app is a video game that interacts with what you're doing on the bike. It also bundles in different interval training or cardio sessions with several of each programmed in. These extend the programmed exercises already stored in the bike's console. The app is available to use for 5 days for free.
DKN also have their own DKN Mobile app which has been previously available on both Android and iOS platforms. Certainly, on the Android system, it doesn't seem to have been updated for some time. Subsequently, it only works on some older versions of Android and not others. Most likely once other apps as described above were released and gained an audience, continuing to maintain the DKN app becomes less viable for the manufacturer. This is understandable.
The maximum carrying capacity is 150 kilos (333 pounds) which supports an overweight or obese senior looking to get back in shape.
The two-year warranty covering parts and labour too is generous.
Check the price of DKN RB-4i Recumbent Exercise Bike on Amazon
#3 Exerpeutic 900XL Recumbent Bike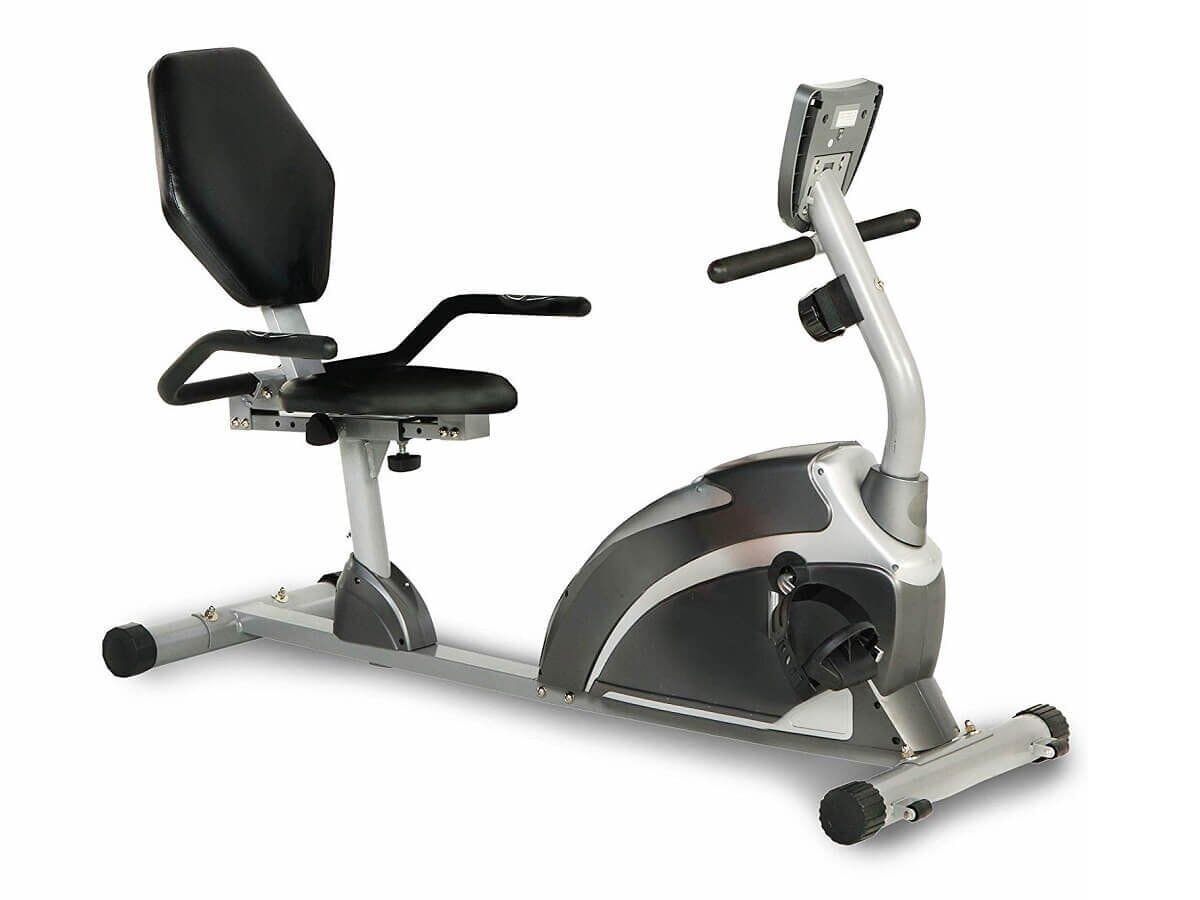 The 900XL from Exerpeutic (dubbed 'Therapeutic fitness') is a more compact, less all-the-bells-and-whistles bike in keeping with the earlier JLL model.
The exercise bike suits people from 5 feet 3-inches tall right up to someone who's 6 feet 7-inches tall. There are a generously sized seat, ample and thick backrest and padded backside area that's built for comfort. Many angled seating positions allow you to set the recline to what you prefer. There's also a pair of handlebars on either side of the seat in a comfortable location which tracks your pulse. The pedals in front have adjustable straps too.
A magnetic tension system is used with 8 settings. The flywheel and belt system are reasonably quiet during use as the other bikes.
The LCD monitor is in the centre of the front handlebars (separate to the ones at the side of the seat). The display is small, but the buttons are a reasonable size. It looks not unlike the JLL console arrangement. From there, it's possible to see your speed, distance, calories burned, heart rate and more.
Getting onto and off the bike is made easier by the Exerpeutic "step-through" design to avoid mobility issues. There's no Bluetooth system to connect exercise apps to the bike's control system or data. However, this exercise bike does support up to 300 pounds.
Check the price of Exerpeutic 900XL Recumbent Bike on Amazon
#4 Exerpeutic GOLD 525XLR Folding Recumbent Exercise Bike

The Exerpeutic Gold 525XLR is a change in design and concept from their 900XL model reviewed above. For starters, it comes in an attractive gold and black colour scheme which extends to the steel frame and seating fabric too. It's also foldable to half its normal size, which is a feature that is not seen in all recumbent bikes. However, it's still 25 kilos in weight.
The height and size of this exercise bike are deceptively small compared to some other bikes reviewed earlier. However, it still has a strong set of features. For instance, along with an increased 400 kg (181 lbs) carrying capacity, the bike also offers seat adjustments from 5 foot 2 inches up to 6 foot 5 inches. So, different people living in the same household can use it.
The seats are also extremely generously padded and offer high back support too. What lets this model down is the lack of highly adjustable back support for reclining –it does have a backwards angle, but it might not be enough for some seniors. However, the marketing material does state that it's a 'semi-recumbent bike' which is fair enough.
There's a 3-stage torque cranking apparatus to improve pedalling fluidity. Its flywheel which is believed to be approximately 5 kilos helps provide the magnetic resistance through 8 levels of adjustments to suit all needs.
The side handlebars beside the bike include the now expected heart rate sensors. The second minuscule handlebars at the front are there primarily to support the computer display. It has a simple LCD screen showing an odometer, pulse rate, time, distance and more. There's no Bluetooth system with this bike.
The 525XLR has a slimline profile but includes extended legs at either end to avoid the bike tipping over. It attempts to strike a reasonable compromise between foldability, space required to use it and the features that are possible within that design brief. It largely succeeds but obviously won't suit every buyer.
Check the price of Exerpeutic GOLD 525XLR Folding Recumbent Exercise Bike on Amazon

Founder of www.calisthenics-101.co.uk. Training calisthenics since 2012.
Currently working on: 30 second one-arm handstand, muscle-up 360, straddle planche.