Eating good quality, clean, protein-packed food should really go hand in hand for any fitness enthusiast, which is why it should be no surprise that MuscleFood is a UK brand I've heard of many times recently but have never quite got round to placing an online order with them. After recently finding out that my trusty Aldi Chicken Strips were in fact shipped from Thailand using Thai chickens, I decided it was time to make the change to much better quality meat and try out MuscleFood for myself.
For anybody who is curious here's my personal MuscleFood Review.
My Order
MuscleFood are known for their fantastic first time customer offers (more on that shortly), but it was a certain deal that caught my eye and prompted me to place my first order. The deal was "Purchase a 2.5KG bag of Chicken Breasts, then spend over £25 on your total order to get a FREE 50 Piece Lean Meat Hamper". The 2.5KG bag of chicken cost £19, so I added a 5KG bag (at only £25) to my order to be eligible for the free hamper.
Including delivery this is what they sent me for just £48.95:

Delivery and Quality
I was working from home on the day it arrived as I've had some bad experiences getting things delivered to my house, but I've got to say the delivery was pretty well handled. I received a couple of emails prior to the delivery, and on the morning of the delivery I got a text message which stated an hour long window which my delivery would arrive within. That turned out to be absolutely spot on too.
It all came delivered in a single large cardboard box, and inside that was an insulated bag complete with three ice packs (see below) to keep all the meat kept cold. If I was to leave the order in a safe place I reckon it would have kept it's cool for a good few hours in that packaging too.


I'd read a bad review online from somebody saying that their Chicken smelt funny, but I received an email with the subject "Your First MuscleFood Order – Must Read" on the morning of delivery, and I've got to say it was very well detailed and covered a lot of the points to do with smell and look of produce when vacuum packed (see the full text below at the end of the post).
This really helped put my mind at rest and I had nothing but great things to say when unpacking my order.
One of the really positive things I'd heard about MuscleFood is how large their Chicken Breast are, especially once taken out of the vacuum bags. I unpacked all 10KG of Chicken Breast and divided them into freezable bags of 2, which due to their size is the perfect amount for a two person meal (or one if you refer to your dinner as "The Gains Train").
10KG provided me with enough for 18 two-person meals!
I cooked 4 Chicken Breasts as soon as they arrived, but if you're wondering what the other 16 bags looked like then look no further: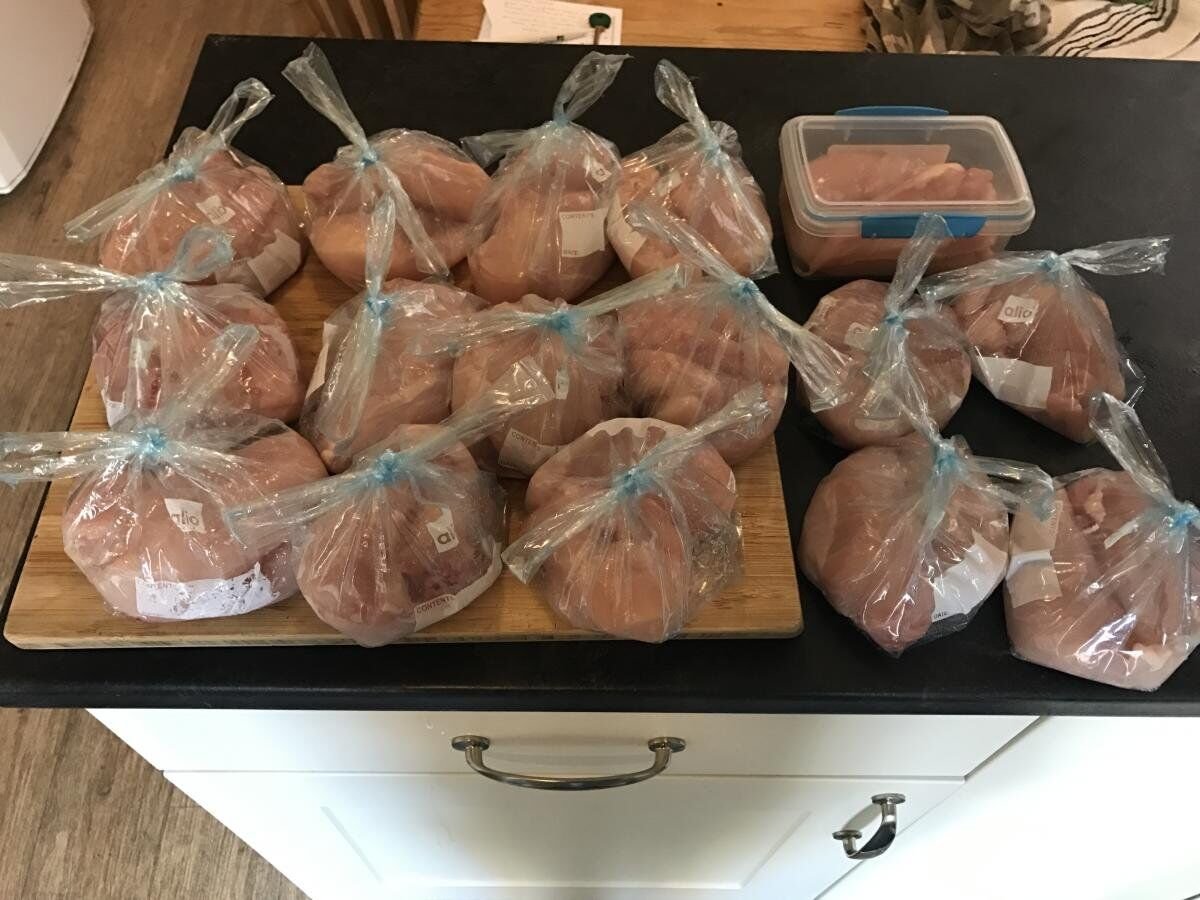 New Customer / Introductory Offers
If you're trying MuscleFood for the first time then I 100% recommend trying out one of their Introductory Offers.
Their most popular one is the New Customer Super Lean Selection which is only £75, which is usually priced at over £100 and includes free delivery. Long story short it contains enough food to provide for a small army, but you can see everything that's included here.
Other offers are frequently changing, but you can see all offers in one place here.
Would I Order from MuscleFood Again?
I'm very pleased with my order and I'd absolutely recommend MuscleFood to anyone within the UK.
Unfortunately the new customer offers are only a one-time thing, but even without them the essentials such as 5KG Chicken Breasts are definitely worth it and have made a huge difference to the way I prepare and cook meals. No surprise there I guess after using Aldi Cooked Chicken Strips for the last year though!
Click here to visit the MuscleFood website and try them out for yourself.
---
Your First MuscleFood Order – Must Read Email
I referred to this above in relation to their packaging, but for clarity here is the full text below:
Gas Flushing – Modified Atmosphere Packaging

We use Gas Flushing, which is the same process supermarkets use to keep products fresh. This gas is slightly sulphuric in smell, which is more noticeable on higher weight products (500g and above).

This does not affect the taste of the meat, and will disappear after a short time. This can be more noticeable from one order to the next.

Vacuum Packaging

Some of our items are vacuum packaged, for protection in transit. Take the products out of the vacuum packaging and leave for 10-20 minutes and they will bloom to their normal size.

Why Is Meat Red Or Brown?

Oxygen from the air reacts with meat pigments to form a bright red colour which is usually what you would expect in a supermarket. Darker meat can be a sign that there isn't any oxygen turning the meat red, a good thing! This is common with vacuum packed items.

Chilled Delivery

We always send your order chilled, not frozen. The Gel Ice Packs should still be cool to touch (although not necessarily frozen), and the items should also be cool to touch. The typical fridge is set at 2 degrees; the Food Safety Regulations state that meat should be stored at 8 degrees or below.

We recommend that you freeze the items on the day you receive them.

Founder of www.calisthenics-101.co.uk. Training calisthenics since 2012.
Currently working on: 30 second one-arm handstand, muscle-up 360, straddle planche.