Calisthenics Movement – better known as 'Cali Move' – provide online programs for those looking to master bodyweight fitness, increase their strength, and learn new calisthenics skills.
We've recently ranked Cali Move as the #1 paid program in our best calisthenics workout programs, so in this review, I'm testing out their latest home workout program which requires no equipment, to see how it compares to other programs we've reviewed on Calisthenics 101.
You can access the Cali Move Home Workout program here.
What is Cali Move?
Calisthenic Movement (Cali Move) is led by instructors Sven and "El Eggs" who have both been training calisthenics since 2012. Between them, they have accumulated over 25 years of experience as fitness trainers.
They have various bodyweight programs available, and all of these are delivered online over the Teachable platform.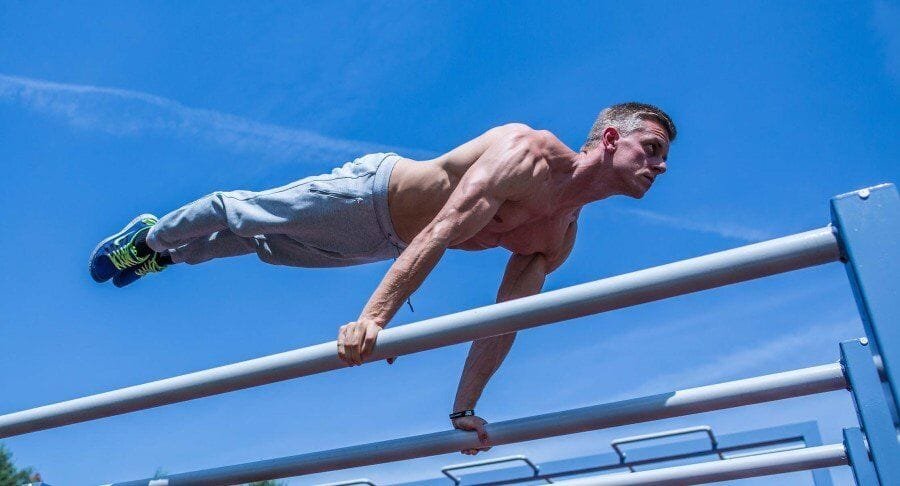 Reviewing Cali Move's latest "Home Workout" program
Sven and El Eggs had already started working on their Home Workout program at the end of 2019, and as a program that only uses household furniture as equipment, the release of their newest program couldn't have been better timed for the nightmare caused by COVID-19.
Many people who have been training calisthenics for a while may already have calisthenics equipment at home (specifically a pull-up bar), but most people with no equipment to hand have struggled to get hold of equipment.
Suppliers have struggled to meet the increased demand for home workout equipment, and excessive delivery time scales have left many people with no alternative than to use nothing more than their existing household furniture.
This is exactly the problem which the Cali Move Home Workout program solves. All you need is 2 chairs, and you have everything you need to complete the 25 week-long program.
What do you get with the Cali Move Home Workout program?
The program is 25 weeks long and is split up into a total of 6 phases, with each one lasting 4 weeks.
Week 13 is a 'deload week' which instead focuses on mobility, to give your body a break from strength training.
Each week has three to four workouts within it, and the phase structure is designed in a way where you alternate two different workouts for the first two weeks of a phase, and then another two workouts for the final two weeks of the phase.


Demonstration videos of each individual exercise are shown at the start of each phase and halfway through the phase, to cover the exercises which will be performed over the following two week period.
These videos focus on the correct form of each exercise, and by structuring the videos this way, the instructors only have to demonstrate any variations to these exercises during the individual workouts, which keeps the momentum flowing during the workouts.
The workouts themselves don't take too much time to complete. The quickest workout is approximately 19 minutes long in Phase 1, and the longest workout is approximately 45 minutes long in Phase 4. This doesn't include a 7-minute long warm-up that you should perform before each workout.
Delivery of the Home Workout program
As mentioned previously, Cali Move's programs are delivered through the Teachable platform, which is very easy to use and has a user-friendly layout. You can see the full course structure down the sidebar, and simple navigation to work your way through each 'lecture'.
You can also see the duration of each lecture clearly, which is useful to get an idea of how long you will need for your next workout.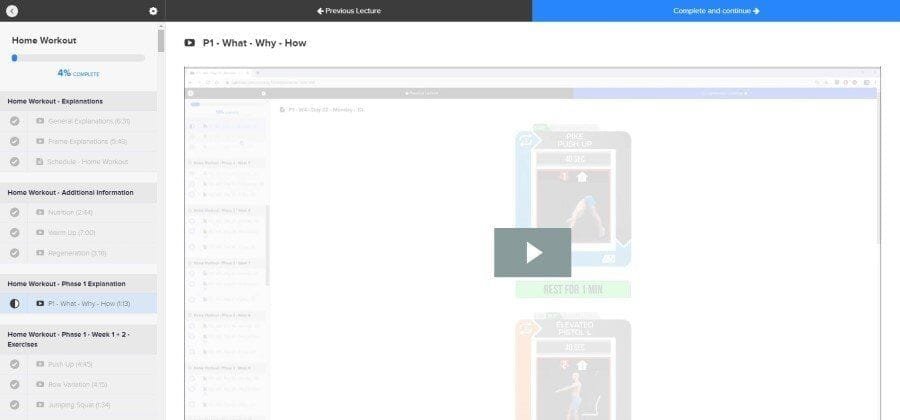 I've already touched on this when reviewing Calisthenics Movement within the best calisthenics workout programs, but the instructors have created a simple design which outlines each workout in a single animated gif structure.
You can see an example below, which is a partial screenshot showing a Row Variation exercise.

The animated gif structure is explained in detail at the start of the course and is a very useful tool once you understand it. Within the animation you can see:
A visual demonstration of each exercise within the workout
How many reps to perform or how long to perform the exercise for
How many sets to perform and what order to perform sets in
The speed of each repetition (the above diagram shows 1 second to pull up, 1 second to lower yourself down, and no pause at the top or bottom of the rep)
How much rest time to have between each exercise set
A new addition to Cali Move's latest program is that they now provide a full follow-along video of each workout, and also a downloadable mp3 file if you want something to play through your headphones. A nice new touch!
How did I find the Home Workout program?
Unlike the other courses offered by Calisthenics Movement, there is only one Home Workout program, so I was curious to see how suitable the program may be to someone like myself who has been training for many years.
The course certainly taught me how I could use my furniture in more innovative ways to target muscles that had otherwise been neglected since the start of lockdown, but I found the exercises and workouts less challenging than my normal workout.
One thing that is different with the Home Workout program than other Cali Move programs is that each week is time-locked (with the exception of the deload week), so you actually have to work through the program as the instructors intend you to do so.
I can see how this stops people jumping ahead, which is understandably one of the most frequent mistakes people make when following bodyweight training programs, but I could instantly tell that the course wouldn't become more suited to myself until later in the program.
Of course, that doesn't mean I dislike the course. The delivery, structure and platform are all really well thought out, and the program matches the quality I already expect from Cali Move.
It's just obvious that this program is targeting a certain type of person that clearly isn't me. I imagine there's a lot of people who lack home fitness equipment and will have turned to bodyweight workouts for the first time due to lack of other options.
What other Cali Move programs are available and how much do they cost?
There are other Cali Move programs listed below, along with information on how much each one costs. These figures are correct at the time of writing, so I recommend clicking the links to see the current prices.
The prices above are all a one-time payment, although you can also opt for a monthly payment plan in 4-6 monthly instalments. Note, that when comparing the total prices, I found the total cost of the programs using a monthly payment plan was between 8-22% higher than the one-time payment price.

Founder of www.calisthenics-101.co.uk. Training calisthenics since 2012.
Currently working on: 30 second one-arm handstand, muscle-up 360, straddle planche.