Here at Calisthenics 101, we're a big fan of Gravity Fitness and their products.
We've reviewed their parallettes and gymnastic rings, amongst other items, and found that they regularly rank #1 on a number of our buyer's guides.
Gravity Fitness's products aren't always the most luxurious items, but they're built to be durable, and because of their highly competitive price, they usually top our buyers guide lists due to their value.
What do I think of the Gravity Fitness Weighted Vest?
Gravity Fitness added a weighted vest to their range in the second half of 2019, and as soon as I heard, I was quick to get my hands on one.
I opted for the 15kg version (more about that later), and within a couple of days the weighted vest had arrived, and I instantly put it on and headed to the local park for a quick weighted calisthenics workout.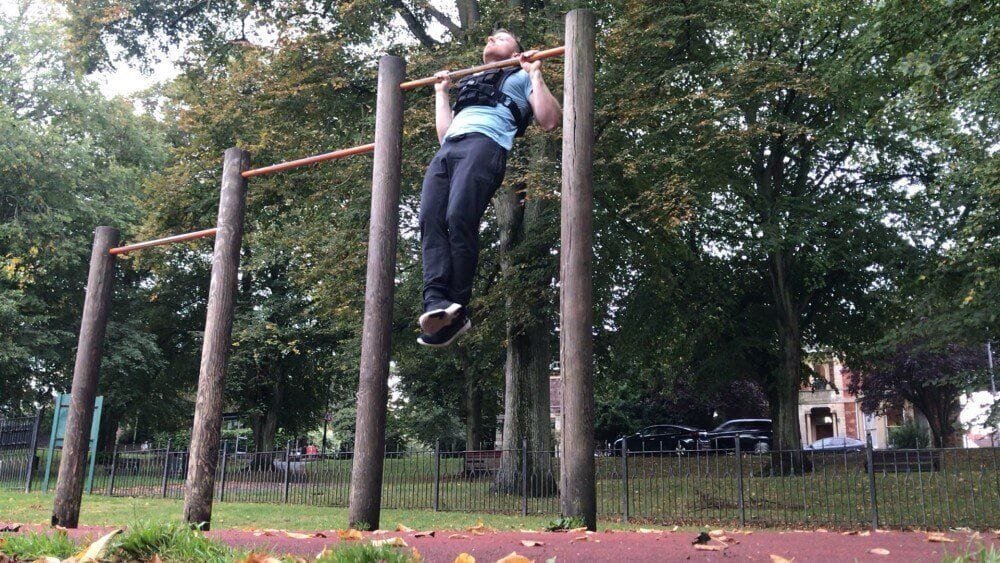 The vest itself is comfortable to wear – you simply slide the vest on over your head and tighten a Velcro strap around your torso to keep the weighted vest in place.
The design ensures the vest is breathable and makes it pretty easy to take the vest on and off.
I did find the Velcro strap quite confusing at first, and this took me a few minutes to get my head around. There's a Velcro sticking patch on both the front and back of the vest and the Velcro loops around the vest and then back on itself to tighten it up. There is a buckle to remove the vest easily, but I still found myself fiddling with the adjustable strap to find a comfortable fit.
Because there isn't any specific loop to thread it through or any markings to show where the strap should line up with the vest, it feels like a bit of a free-for-all, and you have to figure out what works best for you after putting the weighted vest on a few times.
Would I recommend the 15kg or 20kg weighted vest option?
If you're looking to buy the weighted vest, your first question might be which size should you go for, or more specifically, will the 15kg vest suffice or should you spend a little extra to buy the 20kg weighted vest?
The key point to note is that with both vests, you can take the weight off to reach your desired weight, but if you buy the 15kg vest, then you can't add any weight. 15kg will forever be your limit.
Let's start by stating the obvious. If you've never tried a weighted vest on before, then let me tell you that 15kg is heavier than you think when you have to wear the weight.
I'm confident that 90% of people reading this who go on to buy a vest will be more than happy with the 15kg option.
Let me give you some perspective.
After trying the vest out myself, I asked my girlfriend if she could try and take it off me while I stood still and didn't offer her any help. She struggled (though I laughed, of course!).
I then asked her to try the weighted vest on herself and perform as many squats as she can. She managed 19. I then asked her to take the weighted vest off, have a few minutes rest, and then try again. She was easily able to perform 45 squats without the weighted vest.
Changing the total weight of the vest
There are 16 pockets on the vest (8 on the front and 8 on the back), and each pocket holds a small weighted block in it which you can quickly remove to reduce the weight of the vest.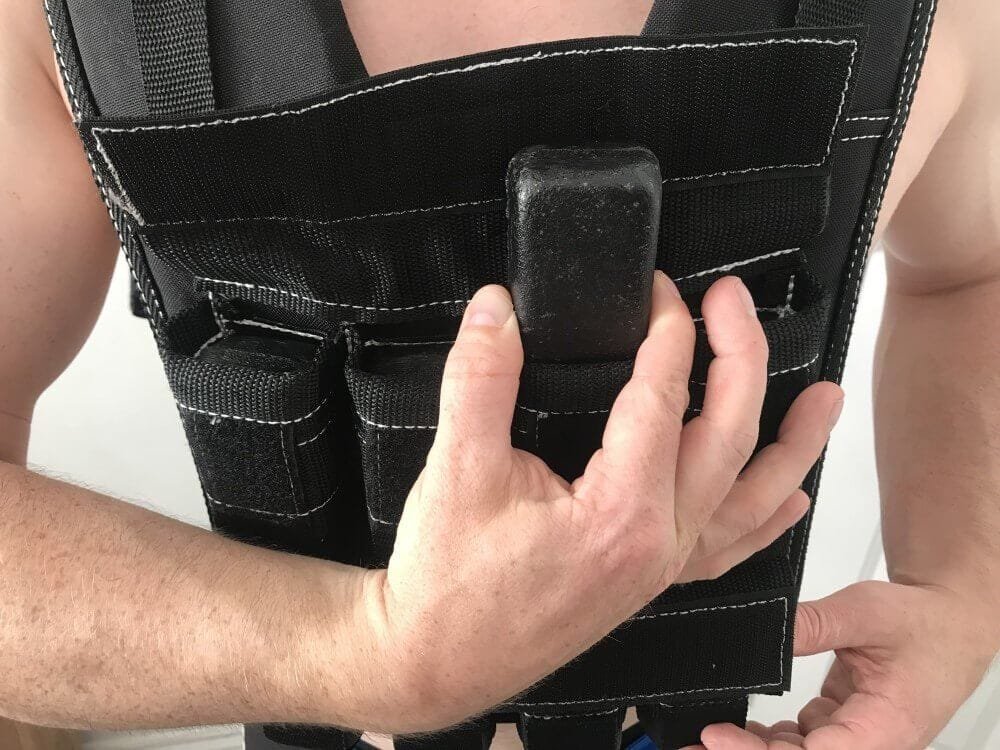 When training with the vest, I removed 6 of the weighted blocks to bring the weight closer to 10kg, as that was the weight I was able to perform a set of 8 pull-ups.
Unlike some of the other weighted vests I have used, the solid blocks make it easier to slide the weights back into the pockets. I've found other vests use 'bean bag' style weights, which makes it much harder to push the weights back into the pockets.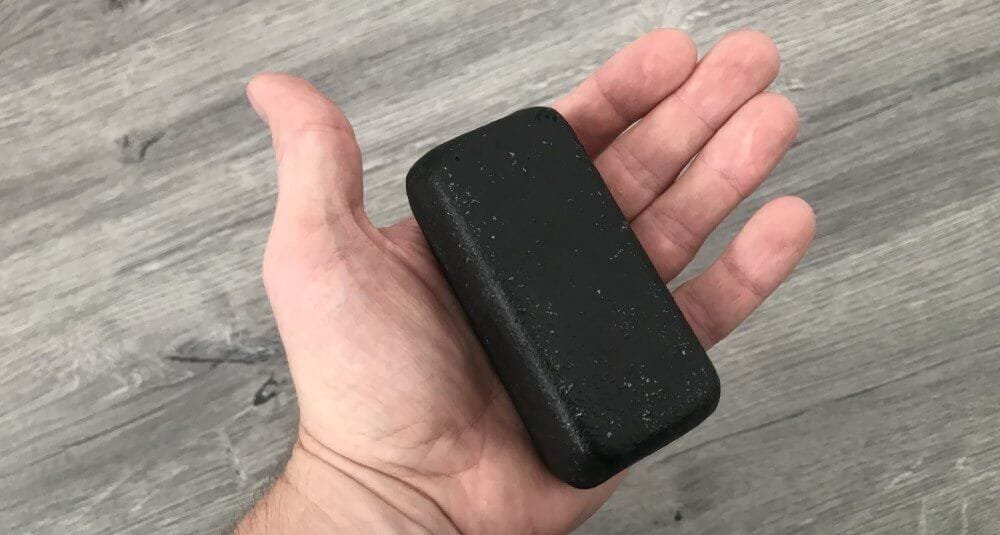 When removing and adding weight, you should ensure you remove weight evenly from the vest so that you don't take it all from the front or the back.
Another nifty little feature I noticed with the vest is that there are some hooks on each shoulder. My first thought is that you could use these loops to attach a resistance parachute, but I also imagine the hooks could come in use for hanging the vest up if you have a couple of hooks or coat hangers free on the wall.

Are there any people who would I not recommend the Gravity Fitness Weighted Vest to?
It's not often that I wouldn't recommend Gravity Fitness for something.
Best Parallettes? Gravity Fitness.
Best Portable Pull Up Rack? Gravity Fitness.
But if you're planning to spend a lot of time running with a weighted vest, then I don't think the Gravity Fitness vest is the most suitable option.
The design of the weighted vest is very similar to that of the Chris Heria weighted vest, in that it fits over your head and is then secured to your body using a single Velcro strap. This design is more breathable than others on the market, but it means that the vest has a tendency to bounce around on your shoulders when running.
If you are primarily looking to use the weighted vest for running, then I would instead recommend the Adidas weighted vest (more about that vest here), which grips to your torso better.

Founder of www.calisthenics-101.co.uk. Training calisthenics since 2012.
Currently working on: 30 second one-arm handstand, muscle-up 360, straddle planche.