Mirafit is known as one of the best-ranked UK gym equipment brands and their Power Racks / Power Cages contribute highly to this ranking as equipment which is highly rated by gym goers across the UK.
At Calisthenics 101 we're obviously huge advocates of bodyweight fitness so you may be wondering why we would review a power cage, however, there are many reasons why a power cage is one of our recommended pieces of equipment for anyone looking to build a home gym:
Power cages offer a stable structure to perform both pull-ups and dips from, without the need to buy both a pull-up bar and a dipping station
It is widely known that bodyweight exercises are not the best exercise for building large leg muscles. Squat using a weighted barbell is the most common exercise for building leg muscle size, and a power cage is perfect for doing just that
The sheer size and weight of a power cage makes it one of the most stable structures for performing bodyweight exercises and helps to minimise any shaking or swaying
So now you may be convinced that a power cage is right for you, but does Mirafit own the best power cage available in the UK, and would we recommend Mirafit as the best-suited buy for a home gym?
In this review, I'm going to look closer at the Mirafit Power Rack and also the Mirafit Heavy Duty Power Cage, plus evaluate it against other options for those looking to find the best option for their budget.
Mirafit Power Rack Weight Lifting Cage & Pull Up Bar Review

Specifications
Max Load: 250kg
Net Weight: 56kg​
Assembled Dimensions: H: 210cm / W: 111cm / D: 113cm​
Frame Diameter: 50mm​
Available Colours: Black or Silver
Features
With a built-in solid steel pull-up bar on top and two fully adjustable full-length chrome safety bars on the sides, the Mirafit Power Rack is designed for those wanting to perform both pull-ups and heavy barbell exercises,  such as squats and bench press, all without having to buy multiple pieces of equipment.
The power cage frame has non-slip protective rubber feet (serving as both a way to stabilise the bar and to protect your flooring) and means the power cages can be mounted on any flat surface without the risk of damage.
There are 21 different levels which you can set the safety bars at, giving you a wide range of choice for setting the necessary fallback when lifting heavy weights in various different positions. The barbell rests are also designed to be placed within any of these 21 different levels too,  giving you full flexibility over your barbell setup.
If you wish to use the power cage for bench press, shoulder press, or any other exercise that requires a bench, then Mirafit also offers some great adjustable benches which fit nicely within the cage. When not in use you can slide the bench fully inside the power cage, or you could even store other items away within the cage if you're really trying to maximise the use of space.
The only problem I have found with the Mirafit Power Cage is that the cage can be subject to a little bit of movement under heavy loads, such as when performing pull-ups with a poor swinging motion (see our pull-up guide!) or when racking very large weights. The more expensive model which I'll discuss in a moment has a method of counter-acting this issue, however, if this is not a problem for you then I'd recommend the Mirafit Power Cage as the best power cage available in the UK for under £150.
---
Premium Option (Under £250): Mirafit Heavy Duty Olympic Power Cage with Multi-Grip Pull-Up Bar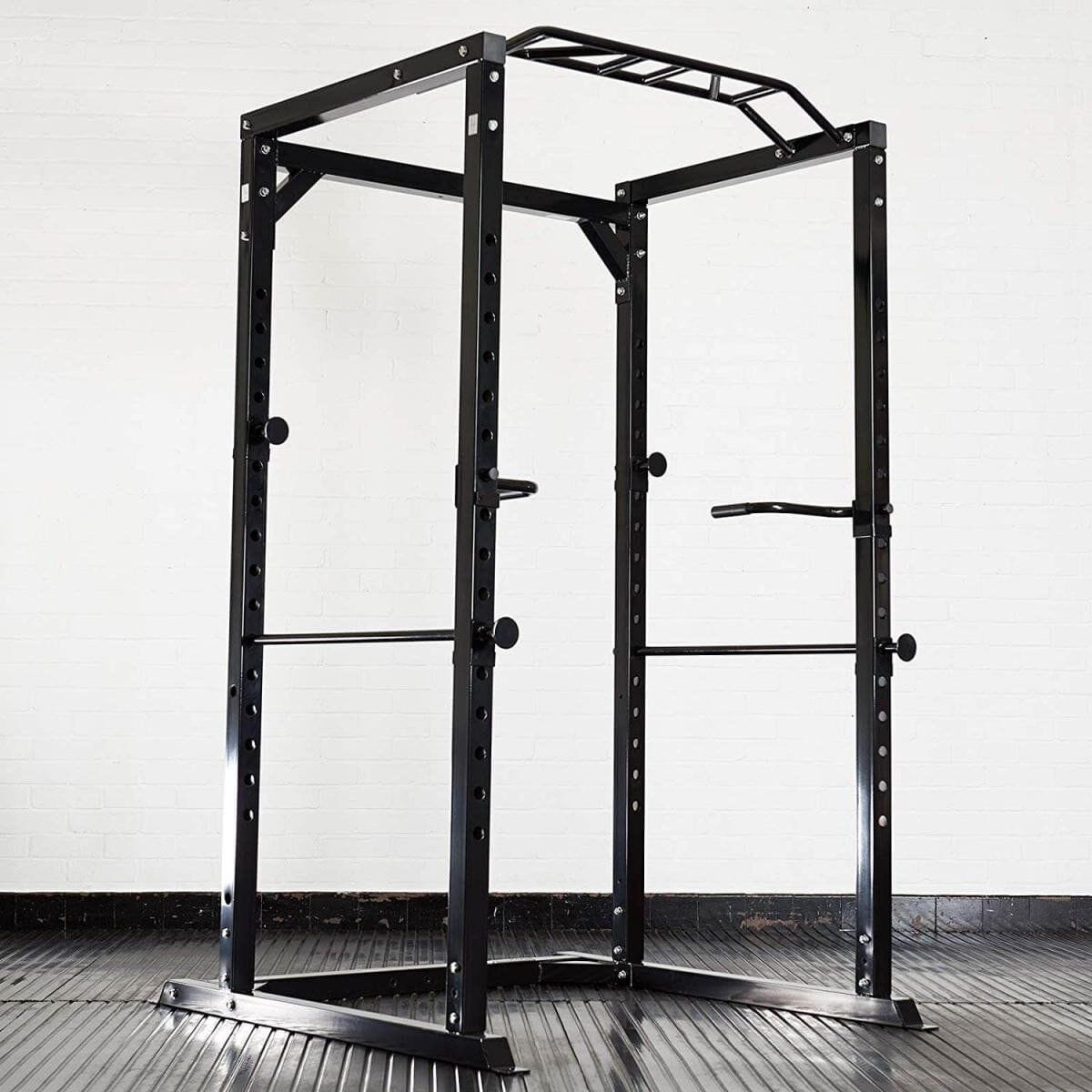 Specifications
Max Load: 350kg (180kg on the pull-up bar)
Net Weight: 82kg
Assembled Dimensions: H: 217cm / W: 123cm / D: 142cm
Frame Diameter: 60mm
Available Colours: Black or Silver
Features
Note: To help you better compare the more heavy duty option from Mirafit, I'll compare its features to the first power cage by Mirafit which I have just discussed in the previous section.
The most important difference to me with the Mirafit Heavy Duty Power Cage is that the rubber feet have been replaced with legs that can be bolted down to the floor. This hugely improves the stability of the cage (something which is a pet hate of mine when performing exercises like muscle-ups), but the lack of rubber feet does mean you'll have to be careful of which surface you place the cage on. Saying that, if you're going to bolt the cage down to the floor then you likely aren't planning to mount it on a nice wooden floor or carpet anyway!
The frame is slightly thicker and is able to take a higher max load (350kg compared to 250kg) which is good news for those monsters out there who are working with some seriously heavy weights.
Other key feature differences are that the pull-up bar is a 'multi-grip' pull-up bar which offers more ways which you can hold the bar to work on different types of pull-ups. This heavy-duty version also comes with dip bars which can be fixed into any of the various mounting levels similar to the safety bars – the biggest game changer in my opinion.
Unlike the standard power cage, the heavy duty version only has 16 available levels to mount the safety bar (compared to 21), though I imagine most people only see this as a minor issue.
If you can afford the higher price tag, then the Mirafit Heavy Duty Power Cage would definitely be my recommended option. A more stable power cage with the additional dip bars makes this version much more valuable to me.
---
Alternative Option With Extensive Feature Set: BodyRip Pro Power Rack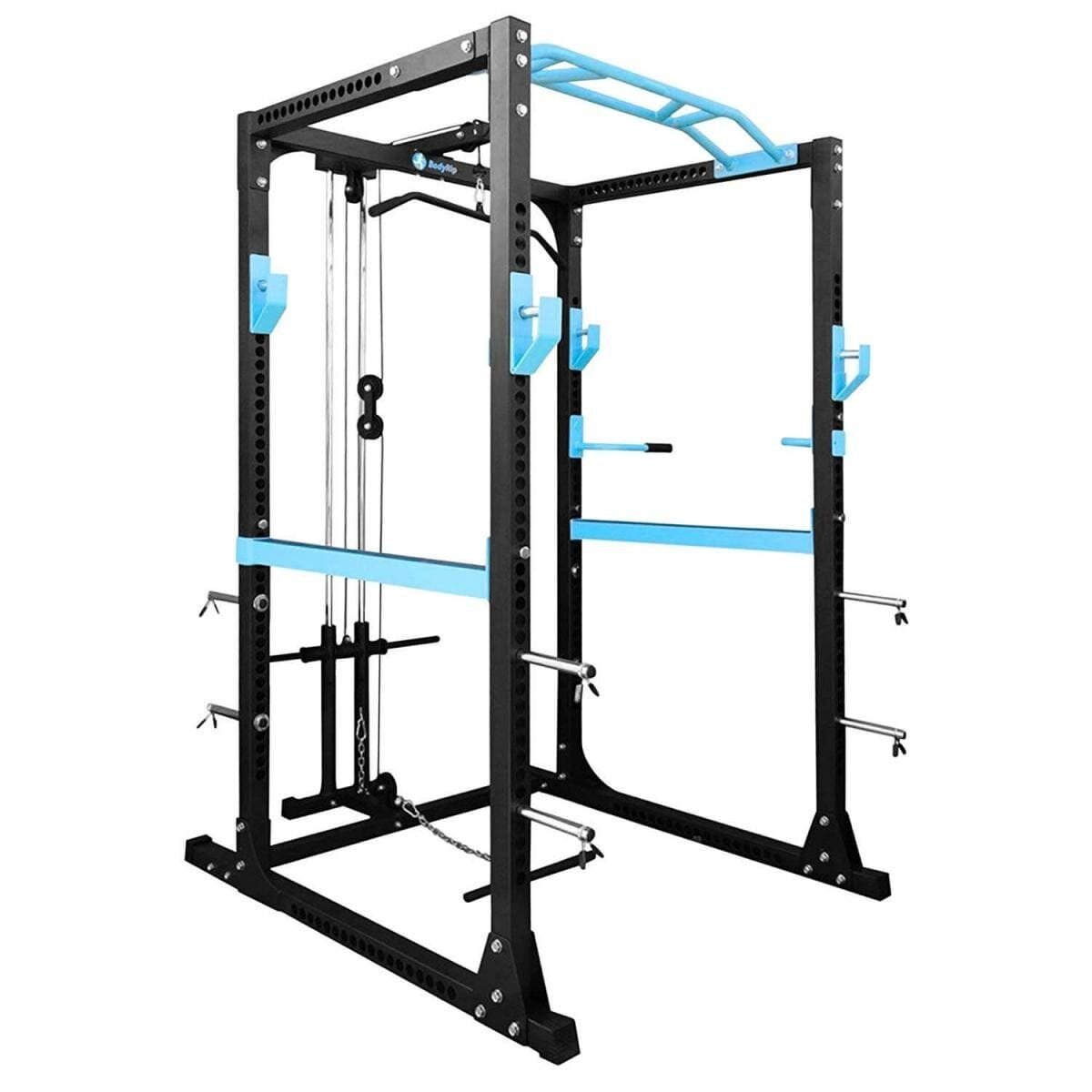 The final alternative is the BodyRip Pro Power Rack which is the most extensive option for those looking for a power cage with all the add-ons. The power cage will set you back almost £400 which certainly makes it the most expensive option when compared to either of the Mirafit power cage products though.
The key feature which sets the BodyRip Pro Power Rack apart from the others is its cable system. The cable system offers two pulling bars; a bar from above for lat pull-downs and tricep extensions, and a bar at floor level for bicep curls and rows.
I would only recommend the BodyRip Pro Power Rack if you want a power cage that offers everything and you're willing to splash out to get that. If you're wanting something that offers the best value, my recommendation would be to simply stick to one of the Mirafit power cages. They're quality products that certainly won't leave you disappointed!

Founder of www.calisthenics-101.co.uk. Training calisthenics since 2012.
Currently working on: 30 second one-arm handstand, muscle-up 360, straddle planche.