Who doesn't wish for a toned body? Some of us make efforts while many are not motivated enough to move a muscle.
We bring you 7 of the many fittest sensations who will inspire you to get into shape and be ready for the New Year.
1. Dwayne 'The Rock' Johnson

Known not only for his amazing physique, Dwayne 'The Rock' Johnson, is also popular for his quirkiness and enthusiasm. The actor and part-time wrestler has a strict diet plan and a crazy workout schedule.
He wakes up as early as 4 am, stretches, puts on headphones and heads out of his mansion.
"No magic formula or secret to success.
I'm up at 4 am daily and puttin' in the hard work that I already know my competition is not willin' to do."

– Dwayne 'The Rock' Johnson.
He usually kick starts the day with his morning coffee, 20 – 35 minutes on the elliptical cross trainer and then a huge breakfast consisting of steak/cod and oatmeal for breakfast.
The other foods in his staple diet include egg whites, chicken, broccoli, oatmeal, steak fillets, baked potato, asparagus, mushrooms, pepper, a leafy salad, onion, halibut. He eats a total of 5 meals in one day!
At the gym, he sits on a flat bench with two 100 pound dumbbells on each side. He trains body parts separately- shoulders, legs, biceps, triceps, back and chest.
He usually works out for 6 days a week in the morning and may also workout in the evening depending on his schedule.
2. Gina Scarangella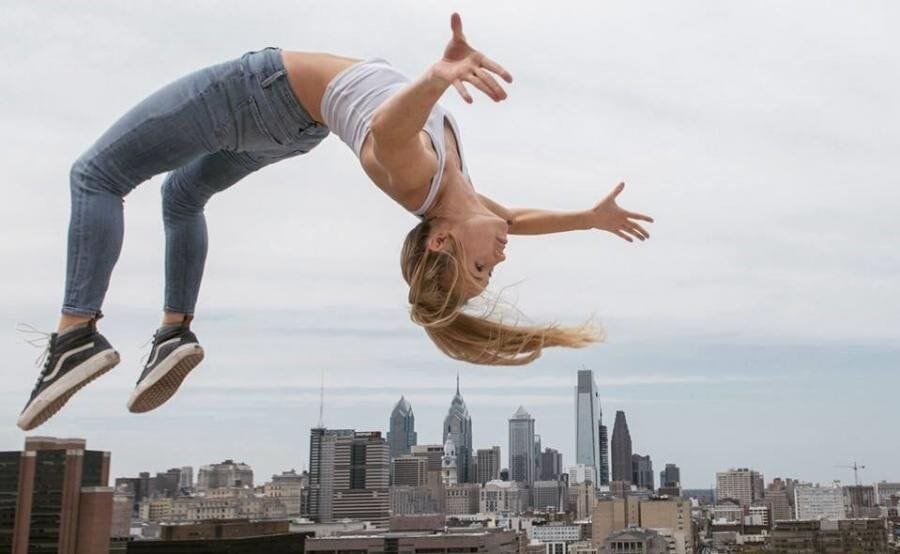 A Calisthenics favourite of Instagram, Gina is a Calisthenics & Gymnastic pro, and Former NFL Cheerleader.
Often found practicing handstands and flips across New York, Gina constantly posts great videos to get you inspired.
Image via IG: @ginascarangella_
3. Christian Bale

An actor popular for his insane weight transformations for his roles in movies, Christian Bale is an inspiration. He lost 60 lbs for his role in The Mechanist and gained back to 220 pounds for Batman. He suffered from poor metabolism after The Mechanist as he had to shed an incredible amount of weight.
He indulged in various exercises while preparing for Batman. He did plyometric, martial arts and weightlifting, sprints, high pulls and lunges. As leisure activities, Bale enjoys skateboarding and surfing.
According to him, running is fun and an effective solution for a hangover. He ate every 2- 3 hours while preparing for Batman to keep up with his weight and metabolism.
4. Osvaldo Lugones
​


Internationally recognized for his speciality in advanced static gymnastic holds, Osvaldo Lugones is an extraordinary calisthenics athlete.
Osvaldo can be found awing his Instagram following with perfect static holds such as the planche, iron-cross, and maltese.
He makes it looks too easy, right?
Image via IG: @osvaldo_lugones
5. Adriana Lima

The Brazilian bombshell Victoria Secrets model gave birth to her second child just eight weeks before she walked the ramp.
She got into shape doing an intense combination of boxing, jump rope and specific sculpting manoeuvres.
She ate steamed meats and avoided everything fried. Her food was plain with no sauces. She made sure her body did not retain any water so she held back on sodium too. She steamed spinach, broccoli, chicken and dark greens. She avoided sugar and portion control was followed.
Lima continues to workout even when she's not training for the VS show by jumping ropes and boxing.
6. Chris Pine
He practices boxing and yoga to maintain his well-sculpted body.
He does a good cardio session by going for a hike or a jog. Pine believes that burning calories and keeping your heart healthy shouldn't be compromised on. Apart from it being it mandatory for him to workout, he believes in the zen of it.
For his role in the latest Star Trek, he bulked up and ate a large well-balanced diet. He did intense weight lifting and circuit training.
7. Hilary Swank
A versatile actress and best known for Million Dollar Baby followed a rigorous workout regime for her movie. Her toned body and well-formed abs are worth envying!
She did 4 hours of workout for 6 days a week. She ate a healthy diet full of proteins worth 210 grams. She also drank protein shakes to accompany her exercise plan for a toned body and sculpted muscles.
Her strength training was power packed. She indulged in 1-2 hours of punching a heavy bag, moving on to bench press with dumbbells. Swank focused on individual body parts. She also jumped rope, cycling and jumping.
During her fitness program, she ate a healthy diet including protein shakes and egg whites. She drank a lot of water, ate flax seeds and an overall low carb high fat diet. Eating in moderation was her key.
2018 – What are you waiting for?
We hope that this list and the numerous fitness inspirations out there force you out of your comfort zone and push you towards achieving a healthy body.
It is not impossible to train your body and eat healthy yet delicious meals. Trust us, the feeling when you see results is unbeatable.
So. What are you waiting for?
If you're not sure where to get started, why not check out our list of Techniques, or if you're looking to make a change, why not read our ultimate guide to building your own Calisthenics home gym to give yourself that kick start into 2018?

Founder of www.calisthenics-101.co.uk. Training calisthenics since 2012.
Currently working on: 30 second one-arm handstand, muscle-up 360, straddle planche.